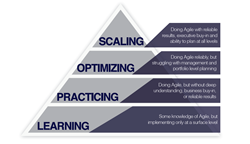 These principles have been repeatedly put into practice while working with clients to scale Agile methodologies and align hybrid projects.
Foster City, California (PRWEB) August 06, 2014
How do organizations decide what initiatives to undertake? Which will make the most impact and create the most value? Who will work on the initiatives? What kind of ROI will result from an initiative? How are initiatives budgeted, tracked and managed?
The answer: Agile Portfolio Management
Portfolio Management is often talked about, but infrequently executed successfully. The Portfolio Level of an organization consists of a collection of initiatives that need to be planned, funded, executed, tracked and delivered; cPrime services help define how to quickly and effectively make portfolio decisions. cPrime's Portfolio Management Services are built around the concept of RAGE, or Recipes for Agile Governance in the Enterprise. RAGE enables rapid and effective decision making at the Portfolio level through the use of light weight artifacts that are developed with minimal effort and is applicable to any type of process (Agile, Plan-Driven, Hybrid, etc.)
The Project Management Industry has seen very little in terms of effective and tangible Portfolio Management, but cPrime's Portfolio solutions identify key pain points within current roles, ceremonies, artifacts, metrics and governance points to build a Portfolio solution that is unique to individual organizational structures and culture. These principles have been repeatedly put into practice while working with clients to scale Agile methodologies and align hybrid projects. These principles act as a guide for how to construct Portfolio Governance patterns. Governance Recipes reflect Agile principles throughout, but their application is not restricted to Agile projects. These kinds of patterns may be used for Agile, hybrid, or other projects. Thompson divides levels of governance into Portfolio, Program, and Project levels, and reviews practices appropriate for each.
cPrime has recently launched a Portfolio Kickstart Package to offer clients the biggest impact and bang for their buck. The package enables the creation of Portfolio Governance patterns. Services include:
Portfolio Assessment and Planning - An experienced Agile Solution Architect provides a specific set of recommendations for what is required to close the gap between the current and desired states for organizations. Out of this comes a Scaling Backlog and Portfolio solution to optimize organizational structure and culture
Portfolio Training – A 2-Day Portfolio Management Training course for C-Level Executives, PMO Directors, Product Managers, and others who make critical decisions about where to invest an organization's resources when developing products and services. This course focuses on how to develop Portfolios of business initiatives, how to define selection criteria for initiatives, techniques for selecting and scheduling initiatives, and techniques for monitoring and revising initiatives chosen for development.
Portfolio Coaching – Experienced Enterprise Agile Solution Architect works with organizations to define and utilize a set of standardized elements: Roles, Ceremonies, Artifacts, Metrics, and Governance Points at the different levels of an organization, starting at the Portfolio level.
Portfolio Process & Software Integration – We are partnering with Innotas to provide a bi-directional and traceable software configuration that unites the portfolio, program and team levels. The software configuration is leveraging the budget and resource planning power in Innotas and the power of Atlassian's JIRA, enabling organizations to get more move into a more predictive pattern of delivery.
Unlike alternative frameworks for scaling, which are either too restrictive or too ambiguous, cPrime's set of flexible guidelines put into practice, Portfolio Management patterns that make it easy for organizations to become more adaptive. To learn more about how to get started with Portfolio Governance, contact cPrime or read more on cPrime's website.