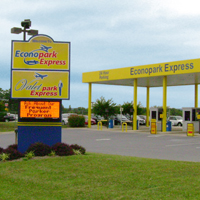 "From the very beginning we have focused on delivering the best of services....."
Baltimore, MD (PRWEB) August 21, 2014
Greenbee Parking, the new parking service in America, has just announced a series of new deals for their customers using the Baltimore (BWI) airport. With these new offers in hand, Greenbee customers will no longer have to lookout for BWI airport parking coupons to save on their parking expenses. The young service provider has created major waves in the industry with their state of the art offers that include all kinds of parking services to meet varying customer demands. Whether one is booking the space for a long duration or for a couple days, Greenbee assures each and every customer a secure space and excellent customer service to go with it. What adds to their popularity is the fact that one can enjoy these easy parking options at every affordable rates round the year.
"From the very beginning we have focused on delivering the best of services at the cheapest of rates," said Christine Cooper – Marketing Coordinator, Greenbee Parking. "One reason was to break the misconception that cheap is not good and our customers can vouch for the quality services at the most reasonable prices. We also wanted our customers to feel that this quality and affordability can come naturally to them, without cosmetic additions/stipulations like the BWI airport parking coupons may have."
Baltimore/Washington International Thurgood Marshall Airport Parking Information
Baltimore/Washington International Thurgood Marshall Airport is a mid-sized airport which is witnessing a steady rise in business for the past few years. It serves multiple locations like Baltimore along with parts of Washington and Maryland, fact that keeps it real busy throughout the year. It has made quite a name for its impeccable services and in 2010 has been named as one of the best airports in the world in the mid-size category. Authorities here are proud of their achievement and are focused at maintaining the status quo with new and improved additions to enhance customer experience here. Naturally, airport parking is a major area of focus and has been undergoing major expansion programs as a result. Apart from public efforts, there are also private parking services like Greenbee Parking which has greatly aided in this expansion with their innovative offers. They have not only made it easy for travelers to book a space instantly but also save a bunch without resorting to BWI airport parking coupons.
The Greenbee Airport Parking Solution
Greenbeeparking.com is the connection between consumers and parking vacancies in close proximity to major airports and seaports. The parking spaces are very affordable because the company has negotiated discounted rates with major hotel chains for the parking spaces that are not currently occupied. Here's how it works.
Greenbee Parking puts the available inventory of parking spaces on their website to be reserved by business and leisure travelers looking for cheap airport parking. This alternative method for finding parking equates to significant savings for the traveler. You can learn more about their offers from (http://youtu.be/RWc3dqhugFA) or via the web at http://www.greenbeeparking.com.
About Greenbee Parking
Greenbee Parking is the nation's most innovative long term parking company, with a new way of making long term parking affordable. The company is rapidly adding new airports to its network.