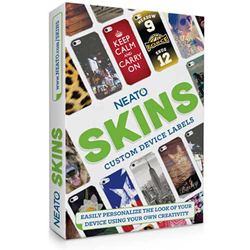 Orange, CT (PRWEB) August 12, 2014
NEATO Skins are custom made to fit easily onto cell phone devices. Keeps devices looking fresh and new in 3 easy steps.
Step 1 - DESIGN - Simply access the online design software from anywhere to create awesome designs.
Step 2 - PRINT - Use a home or office printer to print out finished designs directly onto the premium removable self-adhesive paper.
Step 3 - APPLY - Simply peel the NEATO Skin from the sheet & position it on the device. Just press & smooth it out by hand.
NEATO Skins kit comes with 5 blank NEATO Skins, online design software and a clear one-piece case that is precisely designed to fit and protect both the device and NEATO Skin from dust, scratching and shock.
NEATO Skins can be peeled off and no residue left on the device. This makes it possible to print out a new NEATO Skin and give the device a new look anytime! Refill packs are available for purchase as well.
To learn more and watch our video, go to http://www.neato.com/skins.
#neato #neatoskins