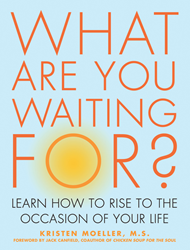 "What Are You Waiting For? explores relationships, spirituality, and success—and how to discern the difference between patience and procrastination." —Unity Magazine
(PRWEB) August 06, 2014
After losing her dream home and all her worldly possessions to a raging and sudden wildfire that killed three people and demolished 21 homes in 2012, Kristen Moeller dove headfirst into an exploration of our cultural discomfort with grief, the existence of God, and finding humor in the midst of tragedy. When she and her husband decided to rebuild their home in Colorado, they chose to downsize from 1200 square feet to 500 square feet, opting to live in a tiny house. The Denver Post talked with them about living in a smaller house.
"'Initially, seriously, it was the adventure of it,' Moeller said. The couple decided to go tiny before they got a final word from the TV show. And they do sometimes question it. It's not that the house isn't comfortable or modern. But they're still adjusting to living in less than half the space they'd been accustomed to," wrote the Denver Post.
Moeller's house will be featured on "Tiny House Nation," a new show by FYI, a new network from A&E on August 13th.
Kristen Moeller is the author of What Are You Waiting For?: Learn How to Rise to the Occasion of Your Life (Viva Editions 2013). Through candid stories and insightful lessons, writer and self-proclaimed "self-help junkie" Kristen Moeller helps explore the pervasive human tendency to wait as life goes by and to look outside ourselves for answers. What Are You Waiting For? is also available as an audiobook.