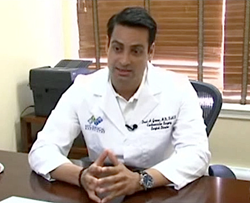 While lipedema has been treated for years in Europe, in the U.S. it is a relatively new condition to the medical community
New York, NY (PRWEB) August 06, 2014
"Lipedema is a devastating fat disorder that affects the quality of life for an estimated 17 million women in the U.S. alone, yet the disease is often misunderstood or misdiagnosed, and consequently left untreated," says Dr. David Greuner, surgical director of Lipedema Centers in New York and New Jersey. "Lipedema causes a disproportionate appearance, with the legs and sometime the arms growing progressively larger."
"Conservative treatments may reduce pain, however these non-surgical treatments don't seem to have any long-term effect on the abnormal fat tissue," says Dr. Greuner. "The good news is that proper diagnosis and treatment can slow or even stop the progression of lipedema and relieve many of the accompanying symptoms. That's why Lipedema Centers has launched a national public awareness campaign to educate patients on the symptoms, diagnosis and the most effective treatments for lipedema."
A recent interview with Dr. Greuner and a patient is now showing on numerous local TV news broadcasts across the country, including NBC, ABC and CBS affiliates. View the news story by clicking on this link: http://youtu.be/g2krWPRwGvA
Lipedema is treatable.
"With early diagnosis we can often prevent a significant expansion of diseased fat cells," says Dr. Greuner. "Tumescent lymph sparing liposuction has been shown to be the only treatment for lipedema to show long-term success. Lymph sparing liposuction has produced promising results in the reduction of pain caused by lipedema and lessens the need for other therapies such as compression."
Lipedema Centers has created an animation showing the progression of lipedema and treatment with lymph sparing liposuction. Click this link to view: http://www.lipedemasurgery.com/lipedema-treatment-with-liposuction-shown-by-lipedema-centers-ny/.
"I believe that the main reason that effective treatment for lipedema has been unavailable is the lack of education," says Dr. Greuner. "While lipedema has been treated for years in Europe, in the U.S. it is a relatively new condition to the medical community."
"Many women who have been living with the significant effects of lipedema thought they were just overweight and couldn't understand what was going on with their bodies," says Dr. Greuner. "They are now discovering that they have an actual disease and that it is treatable. We are seeing patients from every part of the country who are relieved to see that there is finally help available with diagnosis, non-surgical and definitive surgical treatment of lipedema, all at one location."
For more information on lipedema diagnosis and treatment contact Lipedema Centers of NYC Surgical Associates at 888-286-6600 and visit http://www.lipedemasurgery.com
Lipedema Centers is a division of NYC Surgical Associates with locations in Manhattan, Brooklyn, Long Island, and New Jersey.
Dr. David Anthony Greuner is the managing director and co-founder of NYC Surgical Associates. He is a double board certified surgeon with over 10 years of experience. His post graduate residency training was performed at University of Arizona and Mount Sinai School of Medicine affiliate hospitals (Morristown Memorial Hospital) where he was named chief resident of the year, and won the Hughes Dougan award for dedication to patient care and excellence in surgical technique his chief year.
His fellowship training in Cardiovascular and Thoracic Surgery was performed at Albert Einstein School of Medicine in New York City.
He trained with pioneers in minimally invasive and robotic (laparoscopic, thoracoscopic, and endovascular) surgery, and has performed thousands of these procedures successfully. His passion in medicine is improving minimally invasive surgical techniques for less downtime and better results.
Dr. Greuner was voted a "Top Surgeon" by the Consumers Research Council of America four years in a row, 2010, 2011, 2012, and 2013.