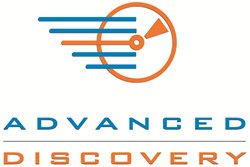 Trivest's investment will allow the company to fully develop its national presence through strategic acquisitions and investments in additional personnel, services and technology.
Austin, TX (PRWEB) August 06, 2014
Advanced Discovery, a leading provider of end-to-end eDiscovery services and document review, announced that its management team has partnered and recapitalized with Trivest Partners, a private equity firm focused on partnering with founder and family-owned businesses in the United States and Canada.
Since its inception in 1981, Trivest has completed more than 200 transactions totaling over $5 billion in value. Advanced Discovery represents the fifth platform investment in Trivest Fund V, a $415 million fund.
Formed in 2002, Advanced Discovery is one of the fastest-growing eDiscovery and document review providers serving the U.S. market today, according to Inc. magazine. The company has facilities in 12 major cities and provides services across the EDRM (Electronic Discovery Reference Model) for law firms and corporate legal departments. Trivest's investment will allow the company to fully develop its national presence through strategic acquisitions and investments in additional personnel, services and technology. "Our market is ripe for consolidation and demands constant innovation," said David Vandygriff, chief executive officer of Advanced Discovery. "We have built a great sales and project support organization and have developed numerous process-enhancing software tools. With access to additional capital through Trivest, we will be able to continue to add talented individuals to our team and expand our technology development to more fully realize our goal of providing efficient, reliable and transparent eDiscovery."
Vandygriff believes that Trivest is the perfect partner for Advanced Discovery's next stage of growth. "Our company cultures are well matched, and the leaders at Trivest share our vision. They also have the financial resources and strategic expertise to bolster our needs as we take the company to the next level. Our management, sales and support teams will remain intact so clients will continue to receive the same excellent service while we work to further enhance their experience."
Forest Wester, partner with Trivest, commented, "We love Advanced Discovery's passion and dedication to doing the right things for its customers and employees. Their commitment to continuous improvement and unparalleled customer service makes Advanced Discovery a trusted partner to its clients and the kind of business that we know is positioned for long-term success. We look forward to helping the company continue its long track record of growth and success. Advanced Discovery aligns perfectly with our strategy to partner with growing, founder-owned, middle market businesses."
ABOUT ADVANCED DISCOVERY:
Advanced Discovery is a leading provider of eDiscovery services and software for law firms and corporations worldwide. Our services include computer forensics, early case assessment, predictive coding, consulting, data hosting, document review and paper discovery. Our specialized technology solutions provide real-time information to help legal teams quickly and defensibly reduce vast volumes of electronic data to expedite eDiscovery and reduce costs. More information is available at http://www.advanceddiscovery.com
###
For more information contact:
Website: http://www.advanceddiscovery.com
Company: Advanced Discovery
Contact Name: Glenda Hoffman
Contact Email: marketing(at)advanceddiscovery(dot)com