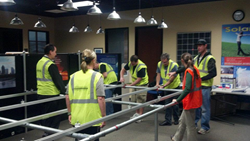 Solar and military veterans are a match made in Heaven!
Murrieta, CA (PRWEB) August 06, 2014
The mission of TVA is to recruit, train, and place the ever-growing population of military veterans into one of the country's strongest growth markets. Marrying veteran skill sets with the NABCEP educational curriculum is scalable and will immediately supply workforce for renewable energy companies throughout the U.S.
The Entry Level Solar PV Design and Installation course is being offered in the Ambassador Energy College training facility in Murrieta, CA. The class and exam are provided at no cost to qualifying U.S. military veterans who are interviewed and selected by The Veteran Asset Co-Founder, Lieutenant Colonel United States Marine Corps (Retired), Scott Duncan. The veteran graduates not only receive premium training, but are exposed to career opportunities through the placement efforts of The Veteran Asset.
"At TVA," Duncan said, "we are working with employers in the solar industry who understand the intrinsic value of hiring veterans. Our mission is to place them 'front and center' with these employers. At the end of the day, it is all about jobs for our veterans!"
Upon passing the exam on the final day of training, graduates receive achievement certificates from NABCEP, the "gold standard" within the solar industry. "NABCEP's reputation for excellence has grown within the solar industry," said Kelly Smith, President of Ambassador Energy College. "It continues to prove itself a valuable tool to assist employers in recognizing candidates' skill levels and commitment to the industry."
"We are so pleased to be a part of this effort," Smith continued. "We have seen the industry grow and recognized a workforce that is struggling to keep up. As more and more United States military veterans are being released from service, it makes perfect sense that they reinvent themselves within an industry that needs their specific skill sets and discipline. Most of them have worked in uncomfortable conditions, demonstrate attention to detail, and follow orders without question. In my opinion, solar and military veterans are a match made in Heaven!"
Interested U.S. veteran candidates should visit The Veteran Asset's website for course details and calendar.
The Entry Level Solar PV Design Course and the 5-day Entry Level PV Design and Installation course includes:

32 hours of live instruction
Lesson reviews
Multiple Quizzes (over 200 practice questions)
NABCEP Entry Level Exam, administered on the last day of class
About Ambassador Energy:
AE is comprised of Ambassador Energy College Solar Training, the Ambassador Energy Agency Program and the installation arms, Ambassador Energy, and Ambassador Solar. On staff are NABCEP Certified PV Installers, NABCEP Certified PV Technical Sales professionals [Fulgham/Kelso], and multiple NABCEP EL graduates. AE holds California licenses General Contractor B, C10 Electrician, and C46 Renewable Energy. Ambassador Energy is IREC/ISPQ accredited. AE Agencies are nationwide. Ambassador Energy installs residential and commercial PV systems throughout California and the US.
About The Veteran Asset:
The Veteran Asset [TVA] is a non-profit organization whose mission is helping U.S. military veterans (Active/Guard & Reserve) obtain careers in the renewable energy sector. TVA recruits, facilitates top-notch Solar PV training, and ultimately provides placement services at no cost to the veteran.