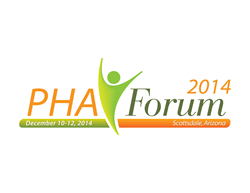 The call for proposals emphasized collaboration and communication that leads to engagement, and we are extremely pleased with the quality and number of the proposals received.
Washington, D.C. (PRWEB) August 07, 2014
The Population Health Alliance, the leader in advancing the principles of population health, is excited to announce four tracks of premier educational sessions for its annual conference, PHA Forum 2014, to be held December 10-12, in Scottsdale, Arizona, with the theme, Collaborate + Communicate = Engage. Registration is open online.
"This PHA Forum 2014 covers a very wide range of the most salient practical, regulatory and policy issues for the population health industry," said Fred Goldstein, CCA interim Executive Director. "The call for proposals emphasized collaboration and communication that leads to engagement, and we are extremely pleased with the quality and number of the proposals received. Our peer-reviewed selection process resulted in a very strong educational program that will benefit attendees."
These educational sessions are not to be missed:
Track 1: Analytics to Action for Providers and ACOs
Digital Surveys and Actionable Data to Engage ACO Stakeholders in Population Health
Kathryn VanOsdol, BSN, ACO Clinical Informatics, Indiana Lakes ACO, LLC
Leveraging Analytics to Improve Identification of Individuals with Advanced Illness Who Will Be Receptive to Hospice
Kevin Murphy, Chief Operating Officer, U.S. Medical Management
Hariharan V. Sundram, MD, Chief Medical Officer, Predilytics
Lessons Learned from Adoption of Outcomes-Based Payment Models
Gerry Tracy, JD, MPH, Manager, State and Payer Initiatives, 3M Health Information Systems
Michael Fay, HIA, MPH, Vice President, Health Networks, Wellmark Blue Cross Blue Shield
Home or Nursing Home? How Kaiser Permanente Is Keeping People Home
Martha Shenkenberg, BSN, MBA, Manager, Consulting Services, Medi-Cal and State Programs, SCAL, Kaiser Permanente
Track 2: Excelling in Engagement
From 'ABCs' to 'STIs' to Implement Population Health!
Frances Martini, RN, BSN, MBA, Director, Population Health Management, Blue Cross Blue Shield of Tennessee
Effective Patient and Provider Engagement: Integrating the Medical Home
Paul Mulhausen, MD, MHS, FACP, Chief Medical Officer, Telligen
Key Success Factors to Optimize Program Design, Execution and Compliance
Michael Dermer, Senior Vice President, Chief Incentive Officer, Welltok
Paul Puopolo, Vice President of Business Innovation and Development, Highmark, Inc.
Track 3: Powerful PHM Strategies
Best Practices for Reporting Program Value, V2.0
Michael Connor, Dr.P.H., Senior Vice President, Health Intelligence, Alere
Creating a Culture of Health through Organizational Support
Jennifer Flynn, MS, Strategy Consultant, Mayo Clinic Ronald O'Donnell, PhD, Director, Nicholas A. Cummings Doctor of Behavioral Health Program, Arizona State University
Track 4: Tech Touch: Strategies for Apps in Health
Achieving Optimal Health and Unlocking Human Potential: A Case Study of Data-Driven Dialogue with the Army
Jeff Arnold, Founder and CEO, Sharecare
Association of Activity Monitors with HRA Responses among those Participating in Employee Wellness Programs
Robert A. Frommelt, PhD, MS, Director, Measurement & Analysis, Nurtur Health
Elaine Gordon, MPH, MCHES, Senior Director, Public Health & Programs, LiveHealthier
Using Mobile Technology to Target Responsible Drinking as Part of Employer-Sponsored Population Health Programs
Leanne Mauriello, Vice President of Research and Product Development, Pro-Change Behavior Systems, Inc.
The Gamification of Health: Effective Engagement in Health vs Gaming the System
Erin Seaverson, StayWell
Paul Terry, PhD, Chief Science Officer, StayWell
Gina DeBruin, MBA, Strategic Partnership Manager, Wellness Team, Fitbit
# # #
About the Population Health Alliance
The Population Health Alliance (PHA) is a global trade association of the population health industry. Its more than 80 members represent stakeholders from across the healthcare delivery system that seek to improve health outcomes, optimize medical and administrative spend, and drive affordability. Through its robust advocacy, research and education initiatives, the PHA offers members a forum to advance shared learning and applied research to further innovation and establish best practices in the population health field. Visit http://www.populationhealthalliance.org to learn and get ready to attend the PHA Forum 2014, in Scottsdale, Arizona on December 10-12, 2014.