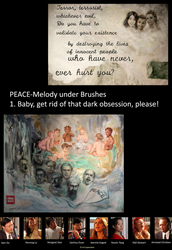 Cambridge, MA (PRWEB) August 18, 2014
Peoples' hearts are bombarded almost daily with news of violent crimes. It's difficult to find inspiration in the midst of tragedy, but for one Boston artist, that's exactly where her muse resides. Youxin Yang is a multi-talented Chinese-American artist living and working in the Boston area. Recently, Youxin, with the help of many talented Boston-area academic musicians, has completed a musical video project titled 'Peace - Melody Under Brushes, Part 1: Baby get rid of that dark obsession please!'. The vocals are those of the Beklee College of Music faculty. In the role of the friend's voice is Associate Professor, Didi Stewart. The voice of the mother is provided by Associate Professor, Jeannie Gagné and the vocals for the father are those of Professor, Armsted Christian. Cellist, Sam Ou, is a Faculty Member and Assistant String Chairperson at New England Conservatory. The traditional Chinese instruments were performed by Erhuist, Hongwei Gao, Pipaist, Yanrong Lu, and Dizi player, Jianhua Duan. The Percussionist for the project was E.C. The painter and songwriter for 'Peace - Melody Under Brushes, Part 1' is Youxin Yang.
Youxin's deepest thanks go out to the people who made this project a reality. She writes, "It is our Bostonian top musicians who dedicated their talent and time for this controversial and non-commercial project. They sing this song using their hearts and their consciousnesses. We have one goal, the goal is so simple: we want to enjoy our lives in a peaceful environment, on a peaceful planet."
The project engages the topic of violence, specifically such violence perpetrated by young people: acts of terrorism and school violence among them. Although completed only a few weeks ago, the project has already won notoriety by receiving two nominations from the 2014 American Songwriting Awards (https://americansongwritingawards.com/winners/2014-nominees-and-finalists).
Youxin's paintings are juxtaposed in her video alongside an original song, for which Youxin composed the lyrics and score. The video montage blends beautifully with the themes of the song, providing a powerful catalyst for emotional connection. The themes are the same in the visual art as they are in the song. It truly is a labor of love and a relevant, even necessary, journey. While the themes discussed may be controversial, Youxin paints in the pursuit of peace, beauty and balance. She considers difficult subjects and explores them though a lens seeking peace and beauty in our troubled modern world. More of her work can be viewed at The Zeitgeist Gallery.
The music in this piece abruptly changes from sweet to melancholy, from imploring to tragic. The lyrics are speaking directly to children who may contemplate future violence or acts of terrorism. The young subject is referred to as a "baby" and a "sweet child" throughout the composition, because every criminal is also someone's friend, son or daughter. The lyrical composition is told in the voice of a potential future perpetrator's friend, mother and father, making it especially heart-breaking. The objective compassion alive in this song resonates with anyone who has witnessed violence or even watches the news. Lyrics include lines like:
"We are all innocent residents of earth.
Should we sympathize with one another and
Enjoy this precious beauty in peace."
Also:
"Everyone has encountered the hardships.
Life is more brilliant
Oh, life is more brilliant
After each time we overcome the obstacles in peace.
No, no, no! Please don't! Baby, please!
If you are so brave to face death,
Ah, sweet baby, little darling,
You can also be a hero in resolving problems and surviving.
Baby, ah…"
Youxin's lyrics address the would-be violent youth in such a way that the audience is reminded that he or she may still be someone's darling, even if they've lost their way; it lulls and calms while imploring them to change their minds and chose beautiful life over death and destruction. In her statement, Youxin explains, "Musically, I composed the theme song from the perspective of family and friends, in an attempt to warmly access the mind of any young adult who may be obsessed by dangerous thoughts due to psychological or personality disorders. Hopefully, this experimental music video, 'Chapter 1- Baby, get rid of that dark obsession, please!', can help in preventing any unexpected acts of violence that are increasingly occurring in our society, even the whole world today."
The images of paintings that accompany the music for this project showcase Youxin Yang's recent, award-winning Peace series of paintings, with prominence given to a painting titled 'Peace VI – Boston Marathon', which is an homage to innocence and lives lost—an act of terrorism, enacted by a young person. The artwork is a visceral memorial to the three fatalities of the Boston Marathon bombings as well as a pointed question aimed at the assailant. Her Peace series has won multiple accolades. 'Peace-I', 'Peace-II', 'Peace-IV', 'Peace-Vi- Boston Marathon', among others, have won the 2013 American Art Award's 'Stoney Award' (A prize for most overall wins by one artist) with a dozen awards placed within 52 categories (American Art Awards http://www.americanartawards.com/2013-winning-artists/). In a Highlight Hollywood article written about Youxin Yang, Tommy Lightfoot Garrett writes: "Yang is the fitting winner of the 2013 Stoney Award (donated annually by one of the surviving fighters for equal rights at the infamous 1969 Stonewall Riots) for her dozen brave works winning various categories of the 2013 American Art Awards […] Not surprisingly, Yang's paintings depict the same deeper aspects of human nature as her film: honesty, generosity, beauty, and an idealized world where spirituality trumps politics." (http://highlighthollywood.com/2013/09/exclusive-2013-american-art-awards-winners-named-highlight-hollywood-celebrates-success/). 'Peace-I' also won 2nd place in Water Media at the 2013 National Juried Art Show at the Highland Museum & Discovery Center in Ashland, Kentucky. 'Peace-III' was a juried selection at The Alexandria Museum of Art in Alexandria, Louisiana for their 26th Annual September Competition Exhibition.
Youxin Yang has several upcoming exhibitions in the United States. You can see her art this September at The Arts Club of Washington, in Washington D.C., in October at the Watertown Free Public Library in Watertown, Massachusetts for a month-long solo show, and next year in Massachusetts at Lowell's Whistler House Museum of Art for an show titled 'Pursuing Justice through Art' in April-May 2015.