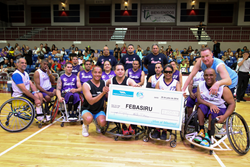 (PRWEB) August 07, 2014
Max International is excited to share the successful outcome of its opportunity and charity event that the company hosted in Puerto Rico last week to showcase its health-boosting products and business opportunities to interested entrepreneurs. The meeting was followed by exhibition basketball games featuring NBA Hall of Famer Chris Mullin.
Max International recently hosted an event in Puerto Rico to promote its health-enhancing products and business opportunities to interested entrepreneurs. The Opportunity Meeting on July 26th was deemed highly successful, complimented by exhibition basketball games between local players, Max Associates, and featured guest Chris Mullin, an NBA Hall of Famer and Original Dream Team member.
Prior to the kickoff of the event, U.S. basketball legend Chris Mullin attended a press event where he was presented a jersey from Federación de Baloncesto en Silla de Ruedas de Puerto Rico (FEBASIRU), the local wheelchair basketball team. The warm gesture took place at the Caparra Country Club in Puerto Rico on July 24th, covered by local news agency Notricentro 4.
The event started with Chris Mullin competing in a 3-point shootout against two of Puerto Rico's basketball legends. Chris won the shootout with 12 out of 15 shots from a 3 point range, in comparison to the 9 shots made by the second place competitor. Mullin also had a shootout with two members of the wheelchair team, which resulted in a 3-way tie.
The 3 point shootout was followed by a basketball game with a special twist and purpose. Chris Mullin graciously participated in a game of wheelchair basketball, playing in a wheelchair for the first time, with Max International Associate Hector Marcano Lopez and the local Puerto Rican wheelchair basketball team (FEBASIRU).
Max International also held a "Max & Mullin Legends Classic Exhibition Game," in which Chris Mullin joined 20 local Puerto Rican basketball legends on the court. The roster included Puerto Rican players Andres Gilbert and Mario Quijote Morales, who played alongside Max International's own Co-CEO Joe Voyticky especially for the event.
During the event Max International showcased its health boosting products and presented its resale opportunities for business entrepreneurs.
The day was highlighted by the crowd surprising Mullin with a cake for his 51st birthday, filling the arena with music as everyone sang "Happy Birthday" to the former NBA all-star. Event attendees included Mayor José Luis Cruz Cruz of Truijillo Alto, along with many other local dignitaries.
As a result of the event, a generous donation of $3,200 was made by Max International to Fundacion Modesto Gotay, a local hospital for children and people with mental disabilities located in Puerto Rico. The company also joined Max Associate Hector Marcano Lopez in donating another $3,200 to the area's local wheelchair basketball team (FEBASIRU).
Chris Mullin was meet with a standing ovation at the conclusion of the event. The event helped significantly raise awareness of wheelchair athletes and their cause.
To learn more about Max International's products or resale opportunities, please visit: http://www.max.com/company/max/full/us/en/overview. To inquire further about Max International or its charity event, please contact Larry Lowe at larry(at)max(dot)com.
About Max International, LLC:
Max International, LLC was founded in 2007 and currently conducts operations in the United States, Canada, Australia, New Zealand, Colombia, El Salvador, Singapore, Malaysia, the Philippines, Hong Kong, and Ghana through a direct sales force, made up of more than 100,000 home-based distributors. Its line of uniquely formulated health products employ proprietary health technology, including the patented RiboCeine™ compound, a revolutionary nutrient that helps promote healthy cell functioning and overall well-being. Max International's driving goal is to provide the opportunity for individuals around the world to share the groundbreaking products with others to help promote wellness and health.