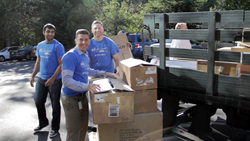 "The ATGStores.com team is excited to partner with Habitat for Humanity to help our local community." - ATGStores.com President Michelle Newbery
Kirkland, WA (PRWEB) August 06, 2014
ATGStores.com is proud to take the first step in a new charity initiative with a $65,000 product donation to Habitat for Humanity Seattle-King County. The donation will support Habitat for Humanity's affordable homeownership program in Seattle and surrounding communities.
"This partnership is part of our new 'All That's Good Deeds' program, an initiative with monthly philanthropic goals we hope will make a difference in our community," said ATGStores.com President Michelle Newbery. "We're excited about this and other opportunities as ATGStores.com works to bring all that's good to families in Seattle and beyond."
The donation includes new furniture and lighting that Habitat for Humanity will sell at a significant discount at its Seattle and Bellevue stores. The gift will further the Habitat mission on two fronts: by providing high-quality home products at an affordable cost and funding its homeownership program with the proceeds.
"We are so grateful for the wonderful merchandise donated by ATGStores.com," said Habitat for Humanity Seattle-King County Director of Retail Stores Don Gordon. "This first donation of quality hardware, lighting fixtures and furniture will be sold at our Habitat Stores where the proceeds will go towards our important goal: putting an end to inadequate housing and strengthening our communities."
Both groups anticipate strengthening the new partnership in the coming years to support Habitat's homeownership program, which requires qualified low-income homebuyers to also invest sweat equity into the homes they purchase.
"The ATGStores.com team is excited to partner with Habitat for Humanity to help our local community," said Ms. Newbery. "We're committed to our customers, employees and neighbors, and this is just one of many efforts to come."
Habitat for Humanity Seattle-King County has an open-door policy for anyone who would like to come in and lend a hand. No experience is necessary and all are welcome to share in helping to build a stronger, safer community. This branch is an Affiliate of Distinction and has several ongoing projects throughout the area, including many that are distinguished for meeting elevated standards for energy efficiency.
To volunteer, donate or simply learn more, visit the Habitat for Humanity Seattle-King County website at http://www.habitatskc.org/ or call (206) 453-2950 for more information.
ATGStores.com, a Lowe's Company since 2011, specializes in home improvement and home furnishing products and has been serving its customers since 1999. The company features more than 3.5 million products in a host of different categories ranging from lighting and plumbing to furniture and hardware. Click here for more information and a detailed timeline on ATGStores.com.
###