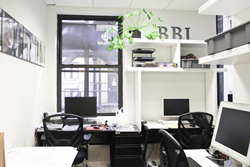 The company will hold a launch party for that centers' new 2,000 square foot rooftop lounge for all their tenants, with the Empire State Building soaring above the event. This is the perfect way to celebrate for a young and energetic company.
New York, NY (PRWEB) August 06, 2014
Brothers Jack and Juda Srour set out to reinvent the office suite concept and began to quickly make an indelible mark on the business. They both had an innate understanding and love for real estate from a young age; their family has been active in the real estate industry for decades, through the ownership and operation of over one million square feet of select office, residential and mixed-use properties throughout the New York City metropolitan area. This month the company is celebrating their six-year anniversary with a networking event at its newest 34th Street location.
Since opening that first location, Jay Suites has been growing impressively at an average rate of one new center per year and they have already become the fourth largest provider of serviced office space in New York City. The Srours plan to open up more centers in Manhattan and expand into new markets like Philadelphia, Chicago and San Francisco, to name a few. With a current roster of six locations, they now lease 200,000 square feet of prime office space in some of the most sought after neighborhoods for industry throughout New York City:

30 Broad Street, 14th Floor (Financial District)
369 Lexington Avenue, 2nd & 3rd Floors (Grand Central)
1370 Broadway, 5th Floor (Penn Station)
1441 Broadway, 3rd & 5th Floors (Times Square)
31 West 34th Street, 7th & 8th Floors (34th Street)
2 West 46th Street, Mezzanine Floor (Fifth Avenue)
Each office center is unique in its floor plan yet every one of them feature its "signature look" emphasizing an ultra-modern style that defines their suites: black and white marble flooring alongside venetian plaster walls adorned with wall sconces, and pure glass enclosed conference rooms. All their locations are in multi-story elevator office buildings with 24 / 7 access and lobby attendants. Their locations are within walking distance from NYC landmarks such as the New York Stock Exchange, Madison Square Garden and transport hubs like the World Trade Center Path Station, Penn Station, The Port Authority and Grand Central Station.
Their office space concept has gained momentum since they first started. Jay Suites' concept provides fully furnished and serviced office space, ideal for start-ups, multi-city organizations, and small users. Centers boast fully-equipped conference rooms, kitchens and hot spots, full time receptionists and managers, state of the art technology, luxurious furniture and all the amenities to be expected in a first class office space.
There is no one user of these spaces; clients are varied, ranging from tech start-ups to modelling agencies to financial analysts, technology companies, to boutique law firms and clothing designers. Companies such as Hewlett Packard, Purity Vodka, Bombardier USA, Hampton Inn and the Daily News call Jay Suites home. All these businesses thrive and co-exist and are able to find business opportunities with each other in the shared environment of the suite. Companies can easily expand within the space, as Jay Suites offers flexible lease terms. Therefore, while the company has been growing, its' clients have been growing with it as well.
In fact, that modern sense of flexibility is just one of the great qualities that sets Jay Suites apart from the competition. Their all-inclusive pricing plan which covers everything from furniture, utilities, phone and internet services, reception and mail handling, usage of common areas, including conference rooms and lounge spaces, make for a low overhead. Being able to project future expenses is a must for companies seeking an office in today's economy. At all levels, the company is forward thinking, modern, fast paced and yet blessed with old fashioned work ethic and professionalism. The team works as an extension of their clients, to aid in the smooth operation of business on a daily basis. Clients can concentrate on their work and their bottom line and leave the rest to their office provider.
Jay Suites will celebrate their sixth anniversary in August 2014 at its newest 34th Street location, at 31 West 34th Street, a real game changer for the company, leasing out in three short months. The company will hold a launch party for that centers' new 2,000 square foot rooftop lounge for all their tenants, with the Empire State Building soaring above the event. This is the perfect way to celebrate for a young and energetic company that is going places, all over New York, all over the country and someday all over the world.
About Jay Suites
Jay Suites is a leading provider of flexible, fully-furnished office space suites in New York City. The firm specializes in full-service executive suite spaces with all-inclusive pricing; their short and long-term solutions accommodate a variety of businesses across the spectrum, from lawyers and financial managers to entrepreneurs. Jay Suites' vision is to transform the business center industry by committing an unprecedented amount of attention to design, service and quality. Jay Suites also offers a variety of virtual office plans & meeting room and day office rentals on a per hour or day basis. For preleasing inquiries about the new space, please call (212) 569-9000 or visit http://www.jaysuites.com.