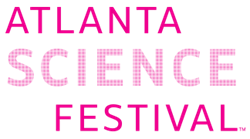 Atlanta, GA (PRWEB) August 06, 2014
Even with the wild success of the inaugural Atlanta Science Festival, its organizers know there's still more exploring left to be done to satisfy the Metro region's ongoing curiosity when it comes to science, technology, engineering and math (STEM). With that in mind, the Festival today announced dates for the second annual event in March 2015.
The upcoming Atlanta Science Festival is scheduled for March 21-28, 2015, and will again offer a mind-boggling range of interactive programs, performances and activities during those eight days at more than 50 locations across the Metro area. Festivities will conclude on Saturday, March 28, at Centennial Olympic Park with one of the most popular events from this past year―the free, family-friendly Exploration Expo.
"The vision for the Atlanta Science Festival was to create a collaborative opportunity to raise awareness and build interest in science and technology across different ages, neighborhoods and educations levels," said Meisa Salaita, Ph.D., Festival executive co-director. "The attendance figures from the first Festival clearly demonstrated our area's interest in this type of event. The excitement and buzz generated from the Festival only fueled our business, academic and local communities' interests in continuing to support this type of accessible programming for our residents."
The 2014 Atlanta Science Festival was the first event of its kind to be held in the state of Georgia. More than 30,000 people filled 100-plus events across 50 locations in metro Atlanta. The Festival's flagship event, The Exploration Expo, drew more than 16,000 of Atlanta's most scientifically curious residents. The Festival is produced by a collaboration of science, cultural, and educational institutions, led by Emory University, Georgia Institute of Technology and the Metro Atlanta Chamber.
"The inaugural Atlanta Science Festival demonstrated tremendous enthusiasm and interest from parents, students, the business community and the general public in science activities and STEM-related careers in metro Atlanta," said David Hartnett, vice president of bioscience and health IT industry development at the Metro Atlanta Chamber and 2015 Atlanta Science Festival Chairman. "Last year's festival brought in more than 30,000 people, making it one of the top five science festivals in the country. We are building on this momentum as we plan the 2015 Atlanta Science Festival and showcase our science and technology strengths and highlight the impact to our regional economy."
The Atlanta Science Festival is hosting a kick-off meeting for community partners on August 12 at the Metro Atlanta Chamber, at which organizers will share results from the 2014 Festival and outline plans for 2015. Cancer Treatment Centers of America, Captain Planet, Carabiner Communications, Delta Air Lines, Georgia Natural Gas, Georgia Power, Lockheed Martin and Women in Technology are among the sponsors that have already committed for the 2015 Atlanta Science Festival.
Curious about what you missed? Watch the Atlanta Science Festival's new video to get an insider's glimpse of everything STEM. To keep up with the latest information on the Atlanta Science Festival, please follow the event on Facebook at AtlantaScienceFestival, Twitter at @ATLSciFest and on Instagram @atlscifest.
About the Atlanta Science Festival
The second annual Atlanta Science Festival is a weeklong celebration of local science and technology that culminates with an all-day interactive Exploration Expo at Centennial Olympic Park. Scientists, experts and educators from local schools, colleges, universities, museums, and corporations will uncover mysteries and explain discoveries in hands-on activities, facility tours, stimulating presentations, and riveting performances at venues across the city. Our mission is to celebrate the inherent integration of STEM (science, technology, engineering, and mathematics) in our lives today, share the impact they have on our community, and inspire us all to wonder about our future. The Festival, which runs March 21-28, is produced by a collaboration of science, cultural, and educational institutions, led by Emory University, Georgia Institute of Technology and the Metro Atlanta Chamber. To learn more, visit AtlantaScienceFestival.org or call (770) 322-4992.