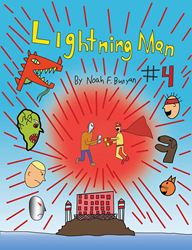 (PRWEB) August 07, 2014
What could possibly match up with Lightning Man #1, Lightning Man #2, or Lightning Man #3? Why, Lightning Man #4, of course!
Hot off the presses, this fourth book in the "Lightning Man" children's book series features Bob Spark as he meets – hear the trumpets blowing – Metal Man. He and his super allies use a bit of technology and science to overcome the malicious villain Metal Man before Noahville is magnetized by doom.
Once again, Lightning Man, Lightning Dog, and Lightning Cat must prevail over evil and save the day Read all four books for optimum fun!
Watch the video at: http://youtu.be/5ezFDy-ygpk.
About the Author
Thirteen-year-old Noah F. Bunyan is currently in eighth grade at DoDDS Lester Middle School in Okinawa, Japan and wrote the first "Lightning Man" when he was only ten. Noah has done book signings in Hawaii, Okinawa, and has been a presenter at Comic Con Okinawa. The author enjoys writing and drawing, and has three more books coming out in the Lightning Man series. He would like to thank his Uncle Tim Armstrong and cousin Patrick Semonelli for being Marine Corps officers and fighting evil villains in real life.
Book Details
Genre: Comics & Graphic Novels
Author: Noah F. Bunyan
Format: Paperback, 28 pages
Pub date: July 2014
LIGHTNING MAN #4 (ISBN: 978-1-62857-971-0) is now available for $13 and can be ordered through the publisher's website: http://sbpra.com/NoahFBunyan or at www(dot)amazon(dot)com or www(dot)barnesandnoble(dot)com.
WHOLESALERS: This book is distributed by Ingram Books and other wholesale distributors. Contact your representative with the ISBN for purchase. Wholesale purchase for retailers, universities, libraries, and other organizations is also available through the publisher; please email bookorder(at)sbpra(dot)net.
Further Information
Ellen Green, Press Manager, Strategic Book Publishing and Rights Agency, 703-899-8128, pressmanager(at)sbpra(dot)net
Strategic Book Publishing and Rights Co, LLC