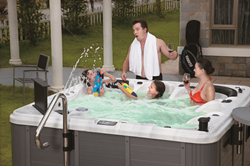 (PRWEB) August 06, 2014
XC Spa, the distinguished spa manufacturer and retailer, has recently launched a promotion for its swim spas. The company's cheap items are classic favourites in the current market. The deadline of this special offer is August 19, 2014.
The high quality spas from XC Spa are available in many styles, including swim spas, outdoor spas and massage spas. All of them are promised to be great, and they are now provided with low shipping costs. A lot of clients enjoy using its top quality items.
Several months ago, XC Spa has launched a promotion for its wonderful outdoor spas. The discounted items sold out in the short period of time. Encouraged by that, it often offers big savings on newly released items. The company's sales representative has confidence in the new sale; he believes worldwide clients will love the cheap swim spas.
What's more the company's one stop website is updated every week, so customers can find its latest products in an easy way. XC Spa is known as a reliable online supplier in the international market. The company offers various kinds of comfortable items for its loyal fans. It is especially famous for its outdoor swim spas and outdoor hot tubs.
About XC Spa
XC Spa is an ISO9001:2000 certified company offering a wide range of Spa products, especially hot tubs, outdoor spa and swimming spa tubs. The company's products go through a strict quality-control process, and they are resistant to weathering, warping and scoffing. Premium product quality and great customer service are the reason that their products are widely recognized by the customers worldwide.
For more information, please visit http://www.xcspa.com/swim-spa/swim-spa-821.html.