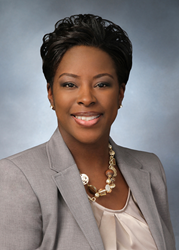 "Evoke genuinely cares about its employees' career success. If an employee works hard and shows dedication, it will all pay off in the end. I am a prime example of Evoke's dedication to supporting and guiding their employees' career path." - Nikia Pounds
Arlington, VA (PRWEB) August 07, 2014
Evoke Research and Consulting, LLC (Evoke) announced today the promotion of Mrs. Nikia Pounds, SPHR to Vice President of Human Capital Management. Mrs. Pounds joined Evoke in May of 2010 as a Project Manager on Evoke's Transportation Security Administration (TSA) contract. Her stellar performance and dedication to client satisfaction on the contract earned her one of Evoke's coveted Star Performer Awards from Evoke's Executive Management Team.
Mrs. Pounds joined the corporate staff as its Director of Human Resources in October of 2011, achieving the first step of many steps in her career development plan. During her tenure as Director of Human Resources, Mrs. Pounds expanded and developed a team of support staff, in addition to continuing her professional studies. She received her certification as a Senior Professional in Human Resource Management (SPHR) in July 2014. Managing Partner, Greg Blaisdell states, "Nikia has more than proven herself through her integrity and dedication to Evoke. She strives for greatness and success in everything she does for our company."
After three successful years as the Director for Evoke's Human Resource Department, Evoke announced today that Mrs. Pounds has been promoted to Vice President of Human Capital Management. She will be overseeing the management of Evoke resources and employees, including but not limited to, employee growth, rewards, benefits and knowledge, skills and abilities. "Nikia is a prime example of how Evoke not only believes in employee growth, but supports our employees in their career paths as they grow within our organization. She began as a Project Manager and is now on our Executive Team. She has demonstrated hard work, dedication and is a role model for many other consultants in our company. We couldn't be more confident in all that Nikia will bring to the table as she continues on her path to success," adds Jim Loreto, Managing Partner.
Nikia Pounds states, "Evoke genuinely cares about its employees' career success. If an employee works hard and shows dedication, it will all pay off in the end. I am a prime example of Evoke's dedication to supporting and guiding their employees' career path."
ABOUT EVOKE: Evoke Research and Consulting, LLC is an ISO 9001:2008 Certified management consulting firm located in Arlington, VA. Evoke provides professional services support to the federal government and commercial industry in Management, Organizational Improvement, and Technology & Engineering services.