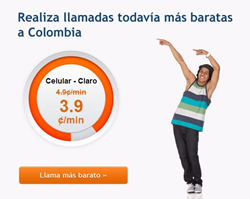 Really awesome to share with the friends and parents. (LlamaColombia.com customer, on ResellerRatings.com)
Atlanta, Georgia (PRWEB) August 08, 2014
LlamaColombia.com, the website designed to help Colombians living abroad keep a close relationship with their family and friends living back home has good news for its customers: a 20% rate decrease to call Claro mobiles in Colombia. The rate per minute dropped from 4.9 ¢/min to 3.9 ¢/min.
The happiest country in the whole world, according to the Global Barometer of Hope and Happiness, Colombia is deeply rooted in Colombians' hearts, no matter if they are still living in their mother country or not. To preserve this happiness, they must regularly stay in touch with the people back home.
Therefore, the rates for calling Claro mobiles in Colombia decreased from 4.9 ¢/min to 3.9 ¢/min. For $2 spent, customers may enjoy 51 minutes of pleasant and cheerful conversation with their loved ones living in Colombia.
The service LlamaColombia.com offers is intuitive and easy to use. Calls may be placed:

from any landline, mobile, or payphone in the world, through local or toll free access numbers.
using the app called KeepCalling, which is not chargeable. The iOS and Android applications may be used to call without having to dial any access number. Plus customers have direct access to their Contacts, so they don't even need to dial the phone number.
from any PC with an Internet connection, through the Web Call app available in customers' accounts.
Another stay-in-touch option LlamaColombia.com offers its customers is: cell phone top up. This way customers can surprise their loved ones living back home in Colombia by offering them a gift: prepaid credit for their mobiles. The process takes less than 1 minute and the credit is sent instantly to the destination number. Claro, Movistar, Tigo, Uff Movil, and Virgin Mobile top ups are available, with values ranging from $5 to $61.25.
Additionally, LlamaColombia.com applies an extra bonus for each order placed: customers receive 2% of the value of the purchase in Thank You points. Whenever customers reach 1,000 Thank You points, they can convert them into $10 Voice Credit that they can use to call Colombia for free.
Also, customers may use a newly implemented feature, which can reduce the time they spend recharging a mobile by up to 50%. All they need to do is:

Log in to their account.
Go to the Mobile Recharge page. All the prepaid numbers recharged in the last 90 days will be listed here.
Select the number they want to recharge. Both the country and the operator the number belongs to will be automatically filled in.
Choose the amount of the recharge and continue to the checkout page.
In addition to user-friendly services and attractive offers, LlamaColombia.com focuses on safe online commerce. This is why there are several security filters, protecting customers from possible frauds and making all transactions 100% safe. All major payment methods are accepted: Visa, MasterCard, American Express, Discover and PayPal.
The safe transactions and easy-to-use products make LlamaColombia.com a reliable partner in keeping a close relationship with friends and family, no matter the country they live in. "My experience was excellent. The transaction was quick and easy. I definitely recommend this service to other people who want to call internationally." (LlamaColombia.com customer, on ResellerRatings.com)
About LlamaColombia.com:
LlamaColombia.com is an interactive website designed by KeepCalling, a global telecommunications company registered in 2002 in USA. KeepCalling, the company behind LlamaColombia.com, also offers other telecom solutions apart from Voice Credit and Mobile Recharge: Virtual Number, Monthly Plans, Web Call and Web SMS through various ethnic websites. Presently, KeepCalling provides its services to hundred of thousands of consumers and businesses, with a focus on customer satisfaction. In 2013, Inc Magazine listed KeepCalling as the 16th fastest growing company in the telecommunications industry.