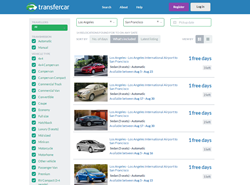 'there is a great opportunity for consumers to benefit from underutilized rental cars.'
San Francisco, California (PRWEB) August 06, 2014
Transfercar, the free rental car company established in Auckland, New Zealand, launched in the US today. The little company that could is taking on the number one country in the world for road tripping with the belief that the American public will embrace the unique services they offer. Already very popular in Australia and New Zealand since its inception in 2007, Transfercar's move into the US shows that this small company means big business.
Starting out in the West Coast states with over 100 cars listed, Transfercar offers free one-way rental cars to independent travellers online. Getting its supply of rental cars from already established rental car companies who need to reposition their fleet, the Transfercar service is beneficial to savvy travellers on a budget. Transfercar's rental service includes a variety of different vehicles, from small cars for the environmentally conscious to RV's for comfortable longer journeys.
As the market leader in Australia and New Zealand, Transfercar presently has 120 rental car companies as customers, and over 100,000 happy drivers. The reason for their popularity is easy to understand. The CEO of Transfercar, Brian Karlson, believes that "there is a great opportunity for consumers to benefit from underutilized rental cars." The Transfercar team have built their service on a clear market opportunity where matching travellers and rental companies creates equal benefits to both parties.
Transfercar is focusing their initial launch on the West Coast cities of San Francisco, Los Angeles, San Jose, San Diego and Las Vegas to cater for high demand, and plans to roll out across the US rapidly.
For more information about Transfercar visit http://www.transfercarus.com.
About Transfercar
Transfercar helps people and rental car companies make and save money on under-used rental cars.
Rental operators need to relocate cars between their branches in order to position their fleet for new hires. Transfercar facilitates contact between rental operators that need to relocate their vehicles, and travellers who would like to drive their cars with no cost to the driver.
The rental operators submit their relocations to Transfercar using the web or integrations with fleet management systems. Prospective drivers then request the relocations through the website, mobile phones or email. The Transfercar solution delivers financial benefits to both rental car companies and flexible travellers.
For more information, contact:
Espen Grimstad, CTO
espen(at)transfercarus(dot)com
+1 (415) 874-7857