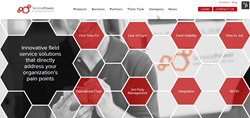 The website clearly defines "...ServicePower is the leading connected field service management technology for any global business aspiring to best-in-class execution."- Marne Martin
Mclean, VA (PRWEB) August 07, 2014
ServicePower Technologies PLC (AIM: SVR), a market leader in field service management software, introduced the newest version of its website on Monday, August 5, 2014.
The website, launched on the latest marketing automation platform, provides integrated SEO, content and lead management, and a cutting edge, integrated, mechanism to publish information to its clients and prospects to best articulate its connected field service management software.
ServicePower has specialized in providing optimization solutions to service businesses for the past two decades and remains one of the most proven and scalable vendors that exist today. Through operating and delivering solutions in a market where complexity and high-powered optimization processes are the norm, ServicePower is uniquely positioned to deliver a value-driven connected field services solution on a consistent, connected, and smart field service management platform.
ServicePower's connected field services solutions support every element of the service ecosystem, from the customer and the dispatch center, to the technician and contracted workforce, through to claims and warranty processes, parts, mobility technology, business intelligence, and social collaboration. ServicePower connects all aspects of the field service value chain through the use of innovative technology including intra-day schedule optimization, SLA and complex job scheduling, M2M Connected Services and Smart Scheduling Broker which offers intelligent dispatching of any labor force. ServicePower's innovative technology accelerates business efficiency gains and customer satisfaction while reducing costs.
The new website now best reflects the positioning and innovation that drives the company and its solutions that enable field service organizations to become efficient, fully mobilized, and fully connected.
Marne Martin, CEO of ServicePower, commented "With a strong start to 2014, including an increase in the number and value of contracts being signed, good progress with partners and alliances, and continued innovations in the products, the website innovations and launch on the leading marketing platform will provide us with an additional boost moving forward. It will extend our reach within our existing verticals while delivering the message clearly that ServicePower is the leading connected field service management technology for any global business aspiring to best-in-class execution."
About ServicePower
ServicePower, the acknowledged leader in Optimisation Technology, provides an innovative global, fully mobilised field service management software platform used by field service organisations such as Assurant Solutions, Mitsubishi, Farmers Insurance, AIG Warranty and Pitney Bowes to improve productivity and efficiency, intelligently schedule appointments, SLA and complex jobs, as well as parts. Our platform focuses on solving fundamental field service problems with patented routing optimisation, M2M connected services, 3rd party dispatch and warranty claim payments, cutting edge mobile technology, robust business intelligence and asset tracking.
ServicePower is listed on the AIM market of the London Stock Exchange with the ticker SVR.L. For more information, please visit http://www.servicepower.com.