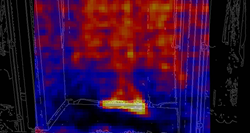 On average, homeowners spend $3,300 per year* on home repairs and lose up to 30% of heating or cooling on fixable problems. (*US Census Bureau)
Bay Village, OH (PRWEB) August 07, 2014
Thermal imaging company Hema Imaging, LLC has unveiled a competitively priced thermal imaging device with excellent resolution for Android- and iOS-based smartphones and tablets.
The Hema-Imager, short for heat mapping imager, allows homeowners, tradesmen, home inspectors and facilities managers to predict problem areas in homes, offices and other buildings by alerting them of unexpected temperatures. Changes in temperature can reveal:

Faulty circuit breakers
Water leakage
Insulation weaknesses and
Sources of energy loss within a room or duct
"According to the U.S. Consumer Product Safety Commission, every year, electrical accidents cause tens of thousands of fires, resulting in hundreds of deaths, more than a thousand injuries and over a billion dollars in property damage," explains Erik Beall, founder and president of Hema Imaging. "Until now, thermal imaging has been very expensive to own. I wanted to create a device that would be more affordable and would help homeowners make informed decisions about ongoing maintenance in their homes."
After two years of prototyping and development, the Hema-Imager hardware has wireless capability and long battery life. Additionally, the patent-pending software allows operation with any smartphone or tablet. The imaging sensor resolution (0.61 angular degrees), temperature measurement range (-50 to 450F) and accuracy (0.2F), is only surpassed by thermal imaging devices that sell for $999 and higher. Furthermore, the Hema-Imager uses a thermal sensing technology that is unique amongst professional imagers and has the added benefit of being a shutter-less system. On most systems, shutters are necessary to keep the image uniform, but cause the image to appear to freeze for a few seconds during use. The Hema-Imager's sensor technology is always uniform, which is a major advantage.
Funding is being sought through Kickstarter to complete manufacturing and finalize development of the app. With an early backer pledge level starting at $195, "crowd-funding" backers can secure a huge discount on the Hema-Imager over the 30 days it's available on Kickstarter. Now in its third day, the Hema-Imager project raised over $20,000 on Kickstarter in its first 24 hours.
Kickstarter has changed how people connect with developers of new products to fund their creative projects. Hema Imaging's goal is to reward early adopters and build a market for this unique product. After the Kickstarter campaign ends, the device will be available at retail for $350.
To learn more, visit hemaimaging.com.
Hema Imaging, LLC
Contact: ebeall(at)hemaimaging(dot)com
Erik Beall, 1-440-941-5489