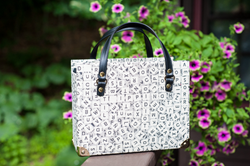 A Pink Tulips handbag serves as an exclamation point to any outfit.
(PRWEB) August 07, 2014
Hot off its heels after being invited to the Primetime Emmy Awards Celebrity Gifting Event in August, Pink Tulips recently launched a new collection of bags, The Wildflower Collection, which are made in Connecticut in limited quantities.
The Wildflowers Collection boasts six handbags in a variety of prints, fabrics and sizes. Animal lovers may be drawn to the Woof Fabric or Cock-a-Doodle-Do totes. For the woman always on-the-go, Cook designed a sleek Navy Leather Crossbody Purse with a brass elephant embellishment that will hold all the essentials. For style setters who like to make a statement, the Tapestry Word Games Tote has its own hidden words amongst a sea of letters.
"I was inspired by those little things that induce smiles for my latest collection," says designer and founder Annette Cook. "A Pink Tulips handbag serves as an exclamation point to any outfit."
Shoppers can browse a range of fashion forward yet timeless handbags, clutches, totes, and more. From classic silhouettes to chic color combinations, Pink Tulips handbags add a touch of whimsical detail to punctuate virtually any outfit. Each handbag has a story to help customers visualize herself going about her day accessorized with a Pink Tulips handbag. Every tote, clutch and satchel is inspired and named after a particular flower.
Fashion forward women can scoop up their next piece of arm candy at http://www.pinktulips.biz.
About Pink Tulips, LLC:
Founded by Annette Cook, Pink Tulips, LLC is a luxury handbag line for the modern woman who "lives vicariously" and recognizes exceptional quality, style and craftsmanship. Cook launched the business in 2010, fueled with the entrepreneurial spirit of her great-grandfather, Joseph Sachs, a prolific inventor who patented the pull down fire alarm and the fuse. Using the skills she had mastered in floral design, sewing and bootstrapping in addition to the help of East Coast boutiques, Pink Tulips caught the attention of kitschy fashion-forward retailer Urban Outfitters in 2012. For more information about Pink Tulips and to browse the latest collection, visit http://www.pinktulips.biz.