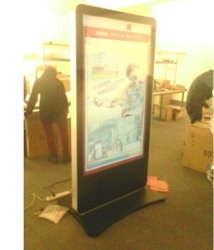 (PRWEB) August 07, 2014
Digital-Signage-China.com is the award winning company offering a wide range of cloud-based media delivery solutions and products. Recently,the company has added its new 65 inch floor-standing digital signage, LCD advertising players to its website.
Digital-Signage-China.com provides a high quality digital signage system for its customers worldwide. All its products are quality made and come with a money-back guarantee. As a global leading provider of digital signage advertising players, it is proud to offer the most reliable and cost-effective products for its clients worldwide.
Over the past few years, the company has established close cooperative relationships with many research institutions, colleges and universities in the R&D of digital signage technology. Now, it operates its business globally in over 35 countries, where its digital signage products are in use daily powering the digital media networks efficiently and cost effectively.
Digital-Signage-China.com has been working in the digital signage industry for a long time and it has a vast knowledge of craftsmanship. In its online store, all workers are kind and patient. The company has a wide variety of high quality advertising players for sale. Its aim is to provide worldwide clients with high quality devices at acceptable rates. It frequently updates its product category.
The reason to choose Digital-Signage-China.com is very simple: This company offers high-quality products at affordable rates, and all their products are delivered at discounted shipping costs.
About Digital-Signage-China.com
Digital-Signage-China.com is a well-known digital signage technology company with the eligibility of production, installation and maintenance of digital signage products. The company has much experience in the industry, and its customers are provided with the best resources and professional tips. It aims to offer all kinds of high end digital signage products for the global market.
For more information about the business and its digital players, visit http://www.digital-signage-china.com/?content/product/46/index.html.