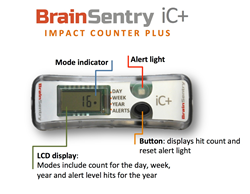 Because our mantra [is] 'Where Athletics Meet Innovation,' teaming up with Brain Sentry was such a natural fit.
Bethesda, MD (PRWEB) August 06, 2014
Brain Sentry Impact Counter Plus™, an innovative helmet-mounted device that alerts when an athlete suffers a rapid – and potentially dangerous – acceleration of the head, will be distributed by Bolt Athletics, a full service, one-stop shop, specializing in team uniforms and equipment.
Located in the bustling I-95 corridor connecting Washington DC and Baltimore, Bolt Athletics serves a national clientele of youth sports leagues and school athletic departments.
"We've always tried to stay ahead of the curve", says Bolt Athletics President Cedar Rihani. "One of the initiatives that we adopted early on was to seek out and introduce the most exciting and game-changing products available. Because our mantra has always been 'Where Athletics Meet Innovation,' teaming up with Brain Sentry was such a natural fit."
Brain Sentry's sensor estimates direction, peak acceleration, and duration of impacts as experienced at the center (CG) of the head. Brain Sentry's patent-pending sensor technology includes a micro-electromechanical, tri-axial accelerometer capable of measuring acceleration from any direction. Helmets provide varying levels of impact protection depending on the direction of the hit. Brain Sentry's proprietary, DAS™ technology (Directionally Adaptive Sensing) provides a consistent alert level – independent of hit direction or helmet type. The Brain Sentry Impact Counter products are now endorsed or mandated by many football, hockey and lacrosse leagues, from youth to professional.
Greg Merril, co-founder and CEO of Bethesda, MD-based Brain Sentry, said: "The two biggest risk factors for concussions are how hard and how often an athlete gets hit on the head. Brain Sentry monitors for both those risks, providing actionable information to coaches and trainers."
Merril added: "Our compact sensor system accurately measures impact forces, and it's affordable. It is light (1-oz), waterproof, there is nothing to maintain, and the batteries last all year without charging."
Brain Sentry sensors are made in the U.S. and easily affix to the outside of the helmet (on the back). Brain Sentry monitors impacts and helps coaches identify athletes who should be assessed for concussion. The sensors also help to identify players with tackling techniques that include excessive head/helmet contact, providing valuable information to coaches and trainers.
About Brain Sentry: Brain Sentry has a simple goal: to stop lives from being devastated by sports-related brain injuries. Brain Sentry is privately held and headquartered in Bethesda, MD. The company was founded by a team of award-winning health-related product developers. Its initial focus is to provide sensors for the three most popular helmeted contact sports: football, lacrosse, and hockey. Brain Sentry is also developing sensors for biking, alpine, and other helmeted activities. Learn more at http://www.brainsentry.com
About Bolt Athletics: Bolt Athletics is among the nation's premier uniform and equipment providers. With the ultimate goal of delivering a true one-stop-shop experience, Bolt Athletics strives to master the art of delivering customer service while providing unparalleled value. Learn more at http://www.BoltAthletics.com