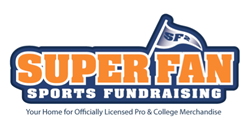 Sunrise, FL (PRWEB) August 12, 2014
Super Fan Sports Fundraising, LLC announced today the hiring of Shannon Brooks as their National Sales Director. Brooks will be based out of St. Petersburg, FL and will be in charge of overseeing sales efforts for the company as well as handling fundraisers in the South Region states of Florida, Georgia and Alabama. He will also be responsible for a nationwide salesforce dedicated to working with schools, youth sports groups and charitable organizations that are in need of raising money.
Brooks has been raising money for youth associations and schools for more than 10 years, helping them raise more than $3 million in his fundraising career. He joined Super Fan after a successful venture building the Brax Fundraising sales team. In addition, Brooks is personally involved in youth sports with 17 years of experience coaching high school football in the Tampa Bay area. He currently serves as head football coach at Dixie Hollins High School in St. Petersburg.
"Shannon's past experience in fundraising sales, and his positive personality, give him a great handle on how to organize and conduct successful campaigns for our fundraising groups that need to generate as much additional funds as possible in these tough times," said Super Fan President & CEO Mark Geddis. "Here at Super Fan we couldn't be more excited about having Shannon join our management team."
In accepting the position, Brooks noted, "The team is comprised of highly motivated, successful, and energetic leaders, to go along with an incredibly dedicated and talented supporting cast. I look forward to being a part of this fun competitive team."
About Super Fan Sports Fundraising:
Super Fan Sports Fundraising, LLC was founded on the principle of offering sports organizations, schools and nonprofit groups unique fundraising programs featuring a wide variety of premium licensed products, including professional (NFL, MLB, NBA, NHL) and collegiate (NCAA). The high quality and authentic logoed sports merchandise provides organizations the ability to earn a competitive profit. The Company's objective is to be the leader in the $4 billion product fundraising industry, providing millions of dollars to assist local schools, sports organizations and nonprofit groups, utilizing a national sales force in every major sports market in the country.
FOR MORE INFORMATION:
Super Fan Sports Fundraising, LLC
Concord Plaza
510 Shotgun Road - Suite 160
Sunrise, FL 33326
info(at)superfanfundraising(dot)com
http://www.superfansportsfundraising.com
Toll-Free (855) 602-7990
MEDIA CONTACT:
Tom Jennings
(855) 602-7990
tjennings(at)superfanfundraising(dot)com