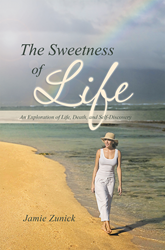 'We just endlessly roamed through America, driving through each state with no destination looking for a new home.'
Los Angeles (PRWEB) August 06, 2014
Sometimes one's situation can be so horrible that the best response is to leave everything behind. Many who have abandoned lives of abuse have found that while they were escaping from an ugly past, they were finding themselves along a new path to freedom.
Jamie Zunick's new book, "The Sweetness of Life," chronicles Zunick and her mother's escape from abuse – packing up their things and going on an adventure that would take them through the 50 states.
"Abusive situations should carry no guilt or shame for the survivor," said Zunick. "Always have hope, because there is a plan for your life."
As a child, Zunick had a speech impediment that was misdiagnosed as an intellectual disability. As a result, she suffered abuse from teachers at school and at home from her father. Zunick was not the only subject of abuse at home. Zunick's father also abused her mother throughout 40 years of marriage; until the day they made the decision to make a new life for themselves.
"We just endlessly roamed through America, driving through each state with no destination looking for a new home," Zunick said.
The book details their adventures across the U.S. and captures the humor and beauty that bloomed as they made their way across the landscape, seeking a new life that would allow them to heal and live in peace.
Their adventure came to a close when Zunick's mother discovered that she had an aggressive form of cancer. After connecting in a new way as a result of their adventures, the bond between mother and daughter was strained by the battle and eventual loss to the illness. Zunick's feeling of loss is heavy, but she knows that the experiences she gained with her mother were important. She finds comfort in the wisdom that came as a result of the challenges they faced together.
"Sharing our stories is healing," Zunick said. "I wrote my story to show that people should be proud of themselves and of their lives – regardless of hardships."
"The Sweetness of Life"
By Jamie Zunick
ISBN: 978-1-4525-9187-2
Available in softcover, hardcover and e-book
Available on Amazon, Barnes & Noble and Balboa Press
About the author
Jamie Zunick has been a reporter for the Los Alamos Monitor and continues to write articles and poetry after publishing this book. She is now an instructor at Santa Barbara Business College at Rancho Mirage, Calif. She has continued to travel through Europe, Malaysia and the U.S.
# # #
For review copies or interview requests, contact:
Matt VanScoik | 317.602.7137 | mvanscoik(at)bohlsengroup(dot)com