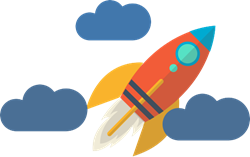 London (PRWEB UK) 8 August 2014
A bootstrapped London tech start-up re-launched their website last week and decided to give domain names away for one week. No strings were attached. Anyone could grab a free domain which usually costs £9.99. The campaign spread across Twitter with one of their tweets getting retweeted over 5,000 times.
In total 4,137 domains were given away to a value of £41,000. Optimal Hosting co-founder Robert Benwell said, "We just went live on Twitter with the giveaway on Monday morning and was expecting to reach 500-1000 free domains by the end of the week but it gained traction so by the weekend we were giving away over 800 domains per day. Overall it's been a great success and we'll be running another giveaway soon." This disruption to the domain name marketplaces comes weeks after Google announced they would be entering the domain space which has been dominated by Godaddy and Web.com to name but a few in recent years. With start-ups like Optimal Hosting also getting involved it seems more innovation to the domain name industry is happening.
Optimal will be in the process of a further domain name give away this September.
About
Optimal Hosting is a fast-growing startup providing cloud hosting, servers, domain names & other services since 2012. A friendly company operating from Shoreditch, East London with a 24 hour support team. They have grown rapidly – from a team of 3 to employing a team of over 20, some working from their offices in London with others based around the world.
In one of the most competitive markets Optimal Hosting aim to go the distance, to provide a fulfilling and hands on service with a dedicated team to give the customer the kind of service they deserve.
Optimal Hosting 65 Leonard Street London EC2A 4QS
Website - http://www.optimalhosting.com
Press Enquiries - press(at)optimalhosting(dot)com
Communications Manager - matt.wyatt(at)optimalhosting(dot)com