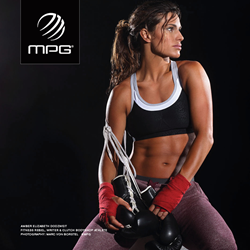 Winnipeg (PRWEB) August 21, 2014
Canadian activewear apparel label, MPG - Mondetta Performance Gear, has launched its 2014 Fall 'My Performance, My Lifestyle' Collection that continues to convey the brand's original philosophy of always pushing the envelope in melding fashion forward designs with technical, performance-enhancing fabrications and detailing. Each season presents an opportunity for MPG designers to find ever more creative methods of uniting the seemingly opposite worlds of sport and fashion in perfect harmony with the result being a complete line of garments that transcend the gym or yoga studio to be worn dressed up in casual environs, especially important to individuals unwilling to sacrifice style for comfort.
Updates to the women's collection for Fall 2014 include striking new additions to the print story with patterns such as geometric block, landscape, lace and cheetah. The collection has been spread across a number of different capsules each reflecting the aesthetic and functional approach to the garments in each:
Run/Active
Dance/Lifestyle
Yoga
Core – perennial bestsellers
Seamless – updated from previous season's using jacquard fabrications
MPG's men's collection, reflecting market trends, continues to adhere closely to the performance side yet still remains much more stylish and fashionable than other comparable brands.
As has been the case every season since the brand's inception, the Fall 2014 campaign features 'models' who are athletes and dancers, admired for their unyielding dedication and discipline in their chosen fields. The images/videos created using the MPG Messengers dramatically illustrate the ability of the garments to function in both active and casual settings. The individuals in this season's campaign, the MPG Messengers, are as follows:
Amber Elizabeth Dodzweit – Fitness rebel, writer and Clutch Body Shop athlete
Colin O'Brady – Triathlete, Olympic hopeful and burn survivor
Sadie Nardini – Life stylist, wellness expert and founder, Core Strength Vinyasa Yoga
Ross Rayburn – Master yoga instructor
Kaori Nakamura – Former principal dancer, Pacific Northwest Ballet
Brianna Blanchard – Professional triathlete, Team USA
The images and video were shot by Seattle-based Marc von Borstel, who has garnered extensive experience shooting our Messengers, and Sam Graydon, respectively. The editorial materials capture the diverse individuals in an active iteration, which are shot in color, and a lifestyle one, shot in black and white.
About MPG:
Founded in 2004 as a division of Mondetta Clothing, MPG, in its continuing efforts to create fashion forward active apparel, bridges the gap between performance and lifestyle to create entire collections that transition from one to the other with an innate versatility absent from other brands in the market. And although much of the original inspiration for the brand and its aesthetic was shaped by dance and dancers, MPG has found fans across a wide spectrum of individuals in pursuit of athletic excellence, including a large segment practicing yoga. From a handful of retail outlets in 2004 and 2005, the brand is now carried in over 450 outlets across North America including some of the most prestigious sports retailers, gyms/spas and yoga studios in the US and Canada. Looking forward, the company plans on continuing opening more doors to both big box retailers as well as smaller locations.