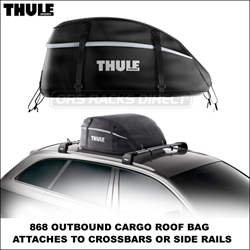 The remarkably generous accessibility to interior of the Thule 869 Interstate roof bag for easily adding and removing belongings is unrivaled.
Barre, VT (PRWEB) August 07, 2014
Leading nationwide, five-star Thule Racks dealer, ORS Racks Direct, announces in conjunction with Thule Racks that the all-new line of 2014 Thule cargo bags for car rooftops are now in stock and ready for immediate shipment throughout North America. Headlining the car roof travel luggage gear bags category are the 869 Thule Interstate roof bag and 868 Thule Outbound roof bag. Both feature dramatic improvements, design innovations, engineered rugged durability, full weatherproofing and water-resistance over the previous generation 846 Quest, 857 Caravan, and 867 Tahoe roof bag models.
"We're really excited about the Thule Rack Company's updated and innovative, all-new roof bags for this season's car travel vacations," Catherine Case, Consumer Relations and Sales Coordinator at ORS Racks Direct, remarks. "The 869 Interstate bag received the car rack industry's highest marks in performance testing for exceptional water-resistance and weatherproofing, making it the most rugged and reliable choice for a soft-sided cargo roof bag. And the 868 Outbound cartop luggage bag is a great value for an always dependable cargo bag for families on a budget. Plus, both cargo carrier bags are now made with phthalate-free materials, which make them more friendly to the environment. We are proud to be partners with such an iconic company that's thinking not just about quality and performance, but about our environmental responsibility, too."
The marquee model 869 Thule Interstate car rooftop bag ( http://www.orsracksdirect.com/thule-869-interstate-cargo-roof-bag.html ) comes with a generous 16 cubic foot capacity for maximum storage, as well as dual compression straps to hold all gear in place in the bag, reduce friction and diminish wind noise at high speeds during transport. The laminate materials are fully weatherproofed and water-resistant, highly durable and abrasion resistant. Simultaneously protects and generously pads all roof bag contents and vehicle car roof top. The technologically advanced, three-sided coated zipper with included storm flap offers further protection from all kinds of foul weather Mother Nature may decide to conjure up while traveling. The remarkably generous accessibility to interior of the Thule 869 Interstate roof bag for easily adding and removing belongings is unrivaled. The Interstate mounts with reinforced webbing straps onto either raised vehicle side rails or virtually any style of vehicle rack cross bars, and is also collapsible to store and stow-away conveniently small when not installed on the car.
While the 868 Thule Outbound car roof bag ( http://www.orsracksdirect.com/thule-868-outbound-roof-top-luggage-bag.html ) is slightly smaller at 13 cubic feet, it offers many features found on its big brother the 869 Interstate, while still managing to enter the car roof cargo-luggage bag market at a value price point. Easily exceeds the industry standards for weatherproofing, water-resistance, and more. And like the Interstate, the Outbound features compression straps to secure belongings and streamline materials for travel, a padded base to protect the surface of the vehicle roof, and a three-way zipper with storm flap for easy opening and closing of the bag and added weather defense. The Thule 868 Outbound folds flat for convenient storage, and installs with double-stitched web straps onto elevated factory side rails or any cartop rack cross bars.
About ORS Racks Direct
ORS Racks Direct is a closely held enterprise focusing on complete sales and service of car and truck rack systems, representing the industry's most respected manufacturers, including Thule Racks, TracRac pickup truck racks, SportRack, Yakima and Whispbar Racks, ProRack, Malone, RockyMounts, Saris, Inno, CURT trailer hitches and more. The company provides high quality transport solutions for automobile rooftop luggage bags, cargo roof box and gear basket systems, snowboard-ski racks, kayak-canoe carriers, stand-up paddleboard SUP-surfboard racks, bike racks, canoe-kayak trailers, receiver hitches, baby jogger and baby stroller child carrier transport systems and more. ORS Racks Direct markets and sells products through multi-channel outlets that include warehouse showroom, phone sales and internet. Please visit ( http://www.orsracksdirect.com/thule-cargo-roof-bags.html ) to view all current model Thule Racks roof bags, as well as ( http://www.orsracksdirect.com/cartop-luggage-roof-bags.html ) for complete information on all car roof rack luggage gear bags from the industry's leading brands.