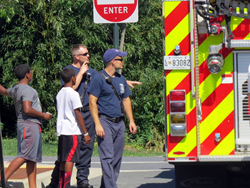 Frederick, MD (PRWEB) August 08, 2014
On Saturday, July 26th, the YMCA of Frederick County hosted a block party for residents of the North Pointe community where YMCA CEO, Chris Colville, and other key YMCA leadership staff volunteered. From 3 - 7pm, approximately 100 North Pointe residents enjoyed this free event by relaxing under tents that lined Lord Nickens Street.
"I couldn't be more proud of the North Pointe community for coming together to celebrate our neighborhood and each other. It was a lot of fun and a fantastic way for people to meet each other. If this is what North Pointe is like with it only half built I can't wait to see what it's like when it is finished." - Malcolm Furgol, 6th street resident.
A variety of food and beverages were served, including hot dogs and snow cones. Children were able to enjoy a bounce house and play games. Other local volunteers were present for face painting and crafts. The Junior Fire Company number 2 brought a fire truck for exploration and the Frederick Police (Including Police Chief Thomas Ledwell) were present to interact with the community. Also in attendance were Senator Ron Young, his wife and candidate for Maryland Delegate, Karen Young; Frederick Alderman Kelly Russell; candidate for Maryland Delegate, Carol Krimm; and Frederick County Board of Education candidate Milicent Hall. North Pointe residents were able to introduce themselves to their neighbors and build relationships within the Frederick community.
"The block party celebrated the sense of pride we have in our neighborhood!" - Lori Duke, North Pointe resident.
About the Y
The Y is one of the nation's leading nonprofits strengthening communities through youth development, healthy living and social responsibility. Across the U.S., 2,700 Y's engage 21 million men, women and children – regardless of age, income or background – to nurture the potential of children and teens, improve the nation's health and well-being, and provide opportunities to give back and support neighbors. Anchored in more than 10,000 communities, the Y has the long-standing relationships and physical presence not just to promise, but to deliver, lasting personal and social change. http://www.frederickymca.org