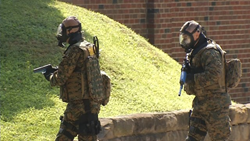 The system worked great and was easily accessible. Message posting was instantaneous.
San Francisco, California (PRWEB) August 07, 2014
On July 25, 2014 as part of new campus safety procedures approved earlier in the year, West Virginia State University (WVSU) teamed up with members of the West Virginia State Police, Kanawha County Sheriff's Department, City of Dunbar Police Department, Kanawha County Emergency Services, Kanawha County Metro 911, Nitro Police Department and the Institute Volunteer Fire Department to conduct an active shooter drill. Officers used role-play techniques and non-lethal training ammunition to realistically simulate an active shooter event on campus.
"A drill of this magnitude has not previously been done. Law enforcement stepped right in, and it was seamless. Everyone was on the same page. When you do drills like this, you learn, and that was the point," said WVSU spokeswoman Kimberly Osborne.
During this comprehensive and realistic drill, campus officials utilized Regroup's multi-modal Emergency Notification System to quickly alert students and staff members who are enrolled in the University's emergency notification program. This included messages being sent via text message, Text-to-Speech (TTS), the University's website, as well as Twitter and Facebook.
Thomas R. Bennett II, Assistant Vice President for University & Legislative Relations at WVSU said, "The system worked great and was easily accessible. Message posting was instantaneous. We tested it on iphones, ipads, and android devices, and it did not matter from any device because Regroup is accessible from a mobile browser. Regroup has been great to work with."
All public four-year institutions must conduct at least one campus-wide emergency drill each year according to the HEPC's Series 54 policy, which establishes the guidelines and procedures for college response plans to an on-campus emergency. All campuses must have an emergency plan in place that addresses situations such as violent acts, natural disasters, and health-related emergencies, such as an outbreak of an infectious disease.
"Colleges and Universities are required, under the Clery Act, to test their emergency response plans on an annual basis, and drills of this type featuring an active shooter scenario are becoming more common nationwide," said Melvin Jones, WVSU Vice President for Business and Finance. "This drill is a vital step in our everyday efforts to maintain the safety and security of all Yellow Jackets."
For a Live Demo of Regroup's Emergency Notification System, sign up here: http://bit.ly/1qWV6nH.
About Regroup:
Regroup, the leading provider of Emergency Notification and Mass Communication solutions, was founded at Stanford University in 2006 to solve the need the university had for easy and effective multi-modal messaging. Regroup offers one-click messaging from an intuitive interface to mobile phones (text/voice), landlines, email, social media, websites, and more. Regroup stands apart from other mass messaging systems with its ease of use, seamless integration with social media and client databases, unparalleled reliability and unlimited text/voice/email messaging. Regroup offers clients complimentary 24/7/365 support and saves clients money - on average 50%. Regroup currently serves government clients such as the City & County of San Francisco, educational institutions, non-profits and businesses.
To learn more about Regroup's Emergency Notification System, please call 917-746-6776 or email inquiries(at)regroup(dot)com.