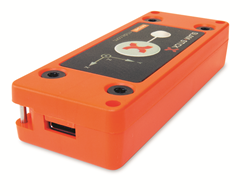 'Slam Stick X is ideal for any engineer or product developer that needs accurate data quickly. Whether it's for structural analysis testing, failure analysis testing, shipping and transportation monitoring, or impact detection.'
Boston, MA (PRWEB) August 06, 2014
Today, Midé Technology announced the launch of its new multifunctional data logger – the Slam Stick X. Developed for the US Navy Aircraft, the Slam Stick X is a USB data logger capable of measuring acceleration in all three axes while also measuring temperature and pressure. Its rugged enclosure and wide temperature operating range (-40°C to 80°C) enable the Slam Stick X to perform in many harsh environments. However, it is the high acceleration/vibration range (± 100g), sampling rates (20 kHz) and triggering options that differentiate the Slam Stick X from other data loggers.
Chris Ludlow, Midé's VP of Engineering, identified four aspects that were key to the Slam Stick X's successful design and development: "The US Navy needed an easy to use self-contained data logger that could accurately replace the cumbersome data acquisition system and wired accelerometers traditionally used when analyzing and testing aircraft. They also needed a way to avoid sifting through large data files to find a few events of interest. The fact that the Slam Stick X provides a range of triggering options to zero in on specific conditions saves them valuable time and costs." Midé's Director of Electrical Engineering, Tim Gipson added: "Besides g-level threshold, a user can set repeating or non-repeating triggers for time, temperature or air pressure/altitude, as well as configure the recording duration following a trigger event."
Apart from the higher g-level options and sampling rates, multiple recording channels and metadata such as timestamps, per-device calibration and traceability information are embedded in each recording, taking the guesswork out of even the most complex, multi-recorder testing scenarios. The USB thumb drive interface makes the device easy to use on the go: no drivers to install, no special privileges needed. The free analysis software, known as Slam Stick Lab, can be stored and run right from the device if necessary.
Midé's Division Director and lead product developer for the Slam Stick X, Stephen Hanly, sees many opportunities and applications for the Slam Stick X: "For a start, the Slam Stick X is ideal for any engineer or product developer that needs accurate data quickly. Whether it's for structural analysis testing, failure analysis testing, shipping and transportation monitoring, or impact detection, the Slam Stick X is easy to use. We simply stick it to the surface we are analyzing, and hit the X-button to start it. It can record up to 10 hours of data at the default sampling rate of 5 kHz. It can record even longer if we set it for interval recording or event triggers. Then we just stick it in our laptop and analyze the data via the Slam Stick Lab software."
About Midé Technology: Midé Technology is an engineering company that develops, produces, and markets smart technology products and materials - primarily for aerospace, automotive, marine, research, and manufacturing industries.