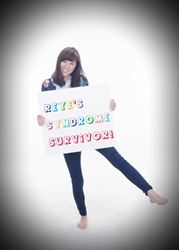 It only took a few minutes before I could not walk or feel my leg on the side the injection was given. It took two years of therapy to be able to walk again.
Claremont, CA (PRWEB) August 07, 2014
On different continents, the young lives of Flavia Nagujja and Caroline (Jung Eun) Kim were deeply affected by childhood illnesses stemming from medical error or lack of information. Kim is a survivor of Reye's syndrome. The rare but serious condition, linked with aspirin use in children with viral infection, causes swelling in the liver and brain. As a baby, Kim developed Reye's syndrome and lapsed into a coma. As a result, she was put on a respirator which damaged her windpipe. She was only able to breathe normally―without the aid of suction machines and an artificial windpipe―after she traveled to Children's Hospital in Pittsburgh for surgery to reconstruct her windpipe. Approximately 8,000 miles away in the Sembabule District of Central Uganda, a 9-year-old Nagujja suffered temporary paralysis as the result of an incorrect dosage of medicine given in an injection.
"It only took a few minutes before I could not walk or feel my leg on the side the injection was given. It took two years of therapy to be able to walk again," Nagujja said.
Both Kim and Nagujja say those early experiences were catalysts propelling them to pursue careers in pharmacy. And, on Saturday, August 23, both young women will take part in a White Coat Ceremony (WCC) recognizing them as members of the founding class of the KGI School of Pharmacy. Students entering a four-year PharmD program traditionally receive white coats ― a symbol of clinical service and care ―to welcome them into the profession as colleagues dedicated to patient care.
"This is a very exciting time to be entering the pharmacy field," KGI President Sheldon Schuster said. "PharmDs are breaking into new areas of practice in industry and regulatory affairs and, at the same time, many PharmDs are playing a much greater role in direct patient care."
In addition to President Schuster and School of Pharmacy Dean Dr. Kathy Webster, speakers at the ceremony will include state Senator Ed Hernandez (D-West Covina), sponsor of a bill expanding pharmacy practice (SB 493) in California, John Roth, CEO of the California Pharmacists Association, KGI Board Chairman Robert Curry, and KGI Trustee and former CEO of Amylin Pharmaceuticals Daniel Bradbury. Dr. Arcelia Johnson-Fanin, founding dean of the Fiek School of Pharmacy at the University of the Incarnate Word in San Antonio, Texas, will be the featured speaker.
"While this is a wonderful time for the profession, we also know that there are many new schools of pharmacy that have opened recently or are about to open," Dean Webster said. "So we are extremely focused on developing a program that will put our graduates at the leading edge of pharmacogenomics, bioinformatics and other forward-looking areas of pharmacy practice. The program will also fully incorporate KGI's core strengths, including an emphasis on experiential, team-based learning and industry partnerships."
As a volunteer for the National Reye's Syndrome Foundation, Kim works to raise awareness about the rare disorder in her own Korean-American community and is hoping to continue those efforts as a PharmD student at KGI. "My ultimate plan is to learn as much as I can about drug interactions, particularly how they can affect children," Kim said. "I know there are a lot of ways to accomplish this and I'm excited to start learning about them as a KGI PharmD student."
Having faced down some serious challenges, such as gender bias and a lack of access to advanced science courses in her homeland, as well as the stigma she faced from a stutter that has plagued her since childhood, Nagujja is also eager to get the coveted white coat and begin her clinical training as a pharmacist.
"Despite the obstacles I've had to overcome, I want a rewarding career where I will have an opportunity to have a meaningful impact on peoples' lives," she said.
The KGI School of Pharmacy White Coat Ceremony will take place on August 23 at 3 p.m. in the Garrison Theater at Scripps College in Claremont, California. For more information about the White Coat Ceremony contact Paige Stein at Paige_Stein(at)kgi(dot)edu or 909.607.0135.
For more information about the KGI School of Pharmacy, visit http://pharmacy.kgi.edu/.
###
Founded in 1997, Keck Graduate Institute (KGI) is the seventh and newest member of the Claremont Colleges consortium. Its mission is to further education and research aimed at translating into practice, for the benefit of society, the power and potential of the life sciences.