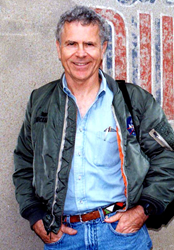 "One of the nation's most promising musicals!" (John Blankenship, Register-Herald review)
(PRWEB) August 06, 2014
"Rocket Boys," the award-winning musical based on the best-selling book of the same name, will be presented this Spring by Atlanta's Legacy Theatre, a professional regional house which also developed "Jane Eyre," among others.
Mark Smith, Artistic Director of the Legacy Theatre says, "How honored we are to be developing this brilliant musical with Homer Hickam himself, the man who actually lived this remarkable story."
Following its NY industry reading in 2010, "Rocket Boys" went on to enjoy three sold-out seasons at the 1260-seat Theatre West Virginia from 2011 – 2013. The production incorporates all the energy and rich humor of the original book by Homer Hickam, which inspired Universal Pictures' feature film "October Sky." Hickam himself co-authors the show's book with Carl Anthony Tramon, along with the Music & Lyrics team of Dan Tramon and Diana Belkowski, the composers of the award-winning musical" Flyer," which has played regionally around the country.
Homer Hickam, a former NASA engineer, is the author of 14 best-sellers published in multiple languages around the globe, with "Rocket Boys" being a firm fixture on school and community reading lists everywhere. A winner of many writing awards, including the prestigious Clarence Cason award for nonfiction from the University of Alabama, his latest work is the sci-fi trilogy "Crater Trueblood" / Helium-3 series.
Tramon & Belkowski are the recipients of two Billboard music awards and are alums of both BMI and ASCAP workshops. (Carl) Tramon is an experienced Broadway actor and director of numerous new works for both regional and New York stage productions.
Since its initial stages, this musical telling of a misfit coal-miner's son who recruits some skeptical friends to join him in his quest to build rockets and conquer space has received an overwhelmingly positive reaction from the theatre community, audiences, and press alike. "One of the nation's most promising musicals!" (John Blankenship, Register-Herald review); "A score that sticks with you long after you leave the theater…" (Dreama Denver, WGAG 93.1 FM); "Rocket Boys invests you in the characters with a passion rarely seen… bright and intelligent humor… each song is memorable." (Jennifer Gunnel, The New York Review of Science Fiction)
"Rocket Boys" at the Legacy Theatre runs from April 17th - May 10th, 2015. For more information, go to http://www.RocketBoysTheMusical.com or http://www.TheLegacyTheatre.org.