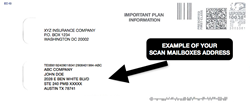 ... reship items anywhere in the world.
Austin, TX (PRWEB) August 07, 2014
Scan Mailboxes is proud to announce the availability of its remote mail scanning and forwarding service to the world, especially the frequent fliers of the recently introduced British Airways daily nonstop service to Austin, Texas from London, United Kingdom.
If an entrepreneur or business from outside of U.S. finds their U.S. sales growing and wants to provide more of a virtual presence in the United States, they can start service with Scan Mailboxes to establish their company a real U.S. mailing address. Once created, when their customers need to communicate by mail, it will be as if their company was domestic, with Scan Mailboxes providing remote access to that mail.
Instead of incurring international mail costs or, more important, delays, entrepreneurs and businesses can have Scan Mailboxes scan the exterior of your incoming mail daily, protecting privacy. Then, when instructed, Scan Mailboxes will shred and recycle any junk mail, open and scan any critical mailings, or forward internationally anything meant to be private. The company can even just hold mail or packages until that next trip into Austin from London or anywhere.
When buying from eBay or just from the web in general, most companies don't want the hassle of dealing with international shipping. It's much easier to just get a U.S. address using Scan Mailboxes and have them reship items anywhere in the world.
Scan Mailboxes can even be their Texas Registered Agent so companies can receive legal documents to be in compliance with the Texas Secretary of State. On top of that, services from Scan Mailboxes work well for personal users, too.
About Scan Mailboxes: Scan Mailboxes (http://www.scanmailboxes.com) is a commercial mail receiving agency. Launched in April 2014, it provides remote mail scanning and forwarding services internationally. Located in Austin, Texas, the company is accessible via phone at +1.512.222.7002 or via email at info(at)scanmailboxes(dot)com.