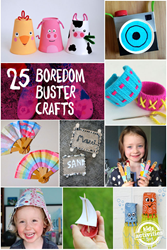 Make homemade bubbles this week together with the kids.
Dallas, Texas (PRWEB) August 06, 2014
Boredom busters to the rescue. 25 boredom busters and a Scooby Doo craft have been released on Kids Activities Blog. Check out the latest kids activities this summer.
Keep the kids entertained with these easy to do activities and games this summer. These activities will keep young hands and minds busy for hours. The ideas include a cute popsicle stick and summer sand craft project, an adorable toilet paper roll octopus, and a homemade bubble recipe.
Create straw sculptures and a DIY yo yo with the older kids. Dye art projects and minions out of corks are cute for kids of all ages.
Scooby Doo loving kids will adore the cute popsicle stick dolls. Create a set for family and friends. The craft is easy to make and will provide hours of fun pretend playtime, too.
Throughout the craft the kids will learn how to mix and match primary colors to make secondary colors. Use the link provided to show the kids the color wheel. Then let them have a blast paining the classic Scooby Doo colors on the sticks.
For detailed instructions and to get additional tips, check out Kids Activities Blog this week. Come get inspired to have a blast together with the kids this summer.
About Kids Activities Blog
Kids Activities Blog is a website created by two moms (who collectively have 9 children), Holly Homer and Rachel Miller. Their new book was published this spring by Page Street, 101 Kids Activities That Are the Bestest, Funnest Ever! Kids Activities Blog is an interactive website that publishes fun things to do with kids twice a day. It is an amazing resource for moms, dads, grandparents, caregivers and teachers to find kid-friendly activities that create memories and sneak learning into the fun.