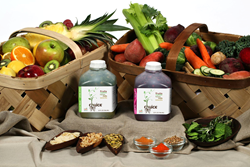 "We feel our customers will respond well to the freshness and culinary creativity in their products." - Stephen Corradini, VP of Purchasing Whole Foods South Region
Atlanta, GA (PRWEB) August 09, 2014
Chuice®, the delicious and innovative "real food" in a bottle has announced a local partnership with supermarket chain, Whole Foods Market, as the newest retailer. Launching August 1st, Chuice will be available for purchase in both the Buckhead and Midtown locations and is slated for distribution to all eight Metro Atlanta stores by November, 2014. Consumers will be able to purchase this convenient health food innovation in 12 and 32 ounce bottles, which has an increased longevity due to the new process of high-pressure pasteurization (HPP). HPP is a process that applies pressure to the bottled product without using heat or chemicals. This allows the product to enhance safety and extend shelf life while retaining nutritional value and freshness.
Sujit Sharma M.D., Harvard Medical School trained and a practicing emergency room pediatrician at Children's Healthcare of Atlanta, is the CEO for the startup. "This is an opportunity to be part of a solution oriented approach to disease prevention," says Sharma. "Chuice is far more than just 'juice', containing high quantities of nutrient dense fiber missing in almost all drinkable refreshments on the market. Nuts and seeds in Chuice also provide high quality protein, as well as healthy fats, that are also missing from most juices. The result is a complete meal"
"We are honored and excited for this opportunity to reach more shoppers searching for convenient natural products that help them adopt healthier lifestyles for the whole family. With more interest and support, as a concept, our goal is to increase sourcing of local ingredients and expand our presence throughout the South Region rapidly. We want to develop a model that unites the interests of health and sustainability...Innovation for a better future." Per Stephen Corradini, VP of Purchasing Whole Foods South Region, "Whole Foods Market is very excited to partner with Chuice in the launch of their new product line as we feel our customers will respond well to the freshness and culinary creativity in their products."
For more information on Chuice, visit http://www.chuice.com.
###
About Chuice
Recognized by Prevention Magazine as one of America's "Top 100 Cleanest Packaged Foods," for 2014, Chuice is chewable, plant-based whole food. Edible and drinkable, this new food concept blends over 40 fruits, vegetables, herbs, nuts and seeds together, forming a complete balance of healthy dietary ingredients: complex carbohydrates, protein, healthy fats and fiber. The result is a delicious, nutritious and convenient meal that has generated a loyal fan base in Atlanta, as well as across the country. People have come to appreciate that chewing is how we begin digestion naturally, and that the process helps to create a more wholesome experience when looking for food options on-the-go. Chuice is sold at several local Atlanta area retailers and ships nationally by ordering online at http://www.chuice.com. Last July, Dr. Sharma collaborated with researchers at Rollins' School of Public Health at Emory. "This was exciting to us. With so much re-search now suggesting a link between certain types of diets, such as the Mediterranean Diet, and risk for chronic disease, this was an opportunity to begin trials of our unique packaged consumer product. In our study, the researchers evaluated 21 test subjects who consumed Chuice as a lunch meal replacement 14 days in a row. They noted a statistically significant improvement in a 'biomarker' called Pulse Wave Velocity (PWV). PWV is known to correlate to one's risk for strokes and heart attacks. With only 21 test subjects in the study, this can by no means be interpreted as groundbreaking, but does support the need for more advanced investigation".