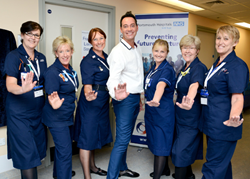 I really urge people to dance every day or even take lessons as often as they're able to keep their bones strong – nobody wants to suffer the pain and loss of mobility that comes with osteoporosis, so let's keep dancing!
(PRWEB UK) 7 August 2014
It is little known that celebrity dancer, choreographer and Strictly judge Craig Revel Horwood has done a great deal in helping the efforts of the National Osteoporosis Society as an ambassador for them since 2009. In this he has common ground with his friend and Co-Patron the Duchess of Cornwall – both had parents who suffered from this debilitating bone affliction.
Osteoporosis is a progressive bone disease that causes a decrease in bone mass which leads to an increased risk of fracture and decreased mobility. The National Osteoporosis Society is currently working to launch a number of Fracture Liaison Service (FLS) facilities throughout the country where people over fifty can be tested in order to prevent and treat the disease. If every individual over 50 who breaks a bone were treated by an FLS, as many as 22,250 painful hip fractures could be prevented in the UK annually.
On June 26 this year, Craig Revel Horwood officially opened a new FLS in Portsmouth and then gave his support at the annual Love Your Bones event. In addition to his charity work with the National Osteoporosis Society, he promotes dance as an excellent weight bearing exercise to build bone strength and prevent the onset or progression of the disease.
From Ballroom to the Samba, Tango and Waltz, dancing strengthens the weight placed on bones to increase their density, while also working the muscles and body core which builds flexibility plus balance to prevent the risk of falls which create bone fractures.
Along with Craig Revel Horwood, the medical profession agrees that weight-bearing exercise is essential to build and maintain healthy bones. Osteoporosis is largely preventable – it can be avoided in most cases if people do weight bearing exercises regularly from a young age.
This is particularly important for women who are at a higher risk of the disease because they generally have a lower bone density than men and also undergo a major loss of bone mass after menopause when their oestrogen levels drop.
The elderly in general are also very susceptible to osteoporosis; it is responsible for almost all hip fracture incidents in older people, which dramatically reduces their quality of life.
Craig Revel Horwood commented on the power of dance as an excellent weight-bearing exercise: "Many people don't enjoy typical exercises, but there are few who can firmly say no to the fun of dancing. Thirty minutes a day is the recommended amount of time needed, and what's also great about dance is that you can tailor it to your individual level, whether it be an energetic Tango or a gentle Waltz. I really urge people to dance every day or even take lessons as often as they're able to keep their bones strong – nobody wants to suffer the pain and loss of mobility that comes with osteoporosis, so let's keep dancing!"