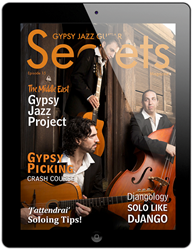 When it comes to exploring the world of Gypsy Jazz, there is no better place to go than Gypsy Jazz Guitar Secrets magazine.
New York, NY (PRWEB) October 31, 2014
Digital music magazine Gypsy Jazz Guitar Secrets exclusively interviews Yaakov Hoter and features live music recordings with his band, Swing De Gitanes.
Yaakov Hoter and his band, the Swing De Gitanes, feature in episode 15 of Gypsy Jazz Guitar Secrets digital magazine available exclusively on mobile iOS and Android devices. This edition includes captivating video performances and an exclusive guitar lesson from Yaakov himself. Each monthly edition of the magazine includes video lessons from some of the brightest Gypsy Jazz guitarists playing today, as well as music and articles on the world of gypsy jazz.
Cover feature Yaakov Hoter is a distinguished guitarist who brings a Middle Eastern sound to Gypsy Jazz. In addition to being an amazing performer, Yaakov is an exceptional teacher who shares with readers an exclusive gypsy picking crash-course. In this interview, Yaakov candidly talks of his discovery of Gypsy Jazz, his website GypsyJazzSchool.com, and the Gypsy Jazz scene in Israel.
"Gypsy Jazz Secrets is a beautiful magazine that helps you keep updated with the world of gypsy jazz. I feel honored to be in this world class issue!" - Yaakov Hoter
Exclusive live performances, cutting edge lessons, music and interviews inside this month's issue include Dario Napoli's regularly featured 'Minor Moves', this time a sizzling lick that's easy to learn and fantastic to drop into any solo. Magazine founder Robin Nolan shares an in depth lesson of how to successfully unlock 'J'attendrai' to create hot solos over this popular Hot Club standard.
Professional musician, Tim Robinson, also shows readers a gig-ready gypsy jazz lick in three easy steps, and Gypsy Jazz Guitar Secrets takes a sneak peak inside Nolan's 'Gypsy Jazz Transfusion'. This comes complete with 2 video lessons teaching the chords and melody to 'Limehouse Blues', with music chart included inside.
Jimmy Grant presents the first of a six part series breaking down Django's 1942 Djangology Solo step-by-step, and Tommy Davy takes readers on a journey through gypsy guitar history with a look at the Siro & Gino guitar Django played in the 30s. Lastly, the magazine is back on the road with Patrus 53 and another classic and inspiring video performance. This month's performance comes from Samson Schmitt, playing the rarely heard Django composition, 'Le Soir'.
This month the magazine also welcomes Saga Musical Instruments, the makers of Gitane and Cigano Gypsy Jazz Guitars, as the official sponsors of Gypsy Jazz Guitar Secrets. For more than 35 years, Saga Musical Instruments has steadily grown to be a global pioneer in the successful development, marketing and distribution of high-quality traditional American and European-designed acoustic musical instruments.
"When it comes to exploring the world of Gypsy Jazz, there is no better place to go than Gypsy Jazz Guitar Secrets magazine. A beautifully done, interactive and engaging online experience that will keep any guitarist wanting more - characteristics that we believe go hand in hand with our Gitane and Cigano instruments. We are proud to be involved." David Gartland, Marketing director Saga Musical Instruments.
A jam-packed issue for all fans, students and performers of Gypsy Jazz music, this issue can be downloaded via the free app on iTunes or Google Play at:
http://www.GypsyJazzSecrets.com
[http://www.GypsyJazzSecrets-Android.com
###
Gypsy Jazz Guitar Secrets
Prinseneiland 63b
Amsterdam, 1013 LM
The Netherlands
About Gypsy Jazz Guitar Secrets Magazine:
A unique combination of digital music magazine and Gypsy Jazz Guitar learning experience, Gypsy Jazz Guitar Secrets Magazine brings readers live performances, cutting edge lessons and exclusive music and interviews. The magazine is a digital-only, multimedia magazine available for free download on iPhone, iPad and Android mobile device at the iTunes and Google Play app stores.