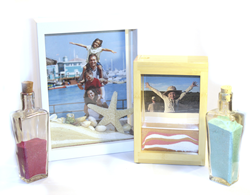 Phoenix, AZ (PRWEB) August 12, 2014
Elaine Kendall, owner of The Forever Frame, announced today that the organization will be unveiling a new line of petite frames this week called "Framettes." The frames will be a smaller 9x6 version of the original 9x12 shadow box frames, providing yet another alternative for uniquely preserving your most important memories.
"We believe the smaller frames will appeal to cruise lines, resorts, dorm rooms, graduation gifts, bar mitzvahs, children's birthday parties, and for destination weddings," says Kendall.
The Forever Framettes will be priced lower than the original Forever Frame, between $44-50 and will come in all 6 original colors. The Framettes will be available for purchase starting August 10th. For more information or to purchases a Framette, visit The Forever Frame website.
About Forever Frames:
The Forever Frame has perfected the art of the shadow box frame by creating hand-crafted, real-wood frames that last. Unlike other shadow boxes, The Forever Frame has developed a sleek and invisible lining to place inside the box, preventing decorative sand or other items placed inside from mixing. Founded in Gilbert, Arizona owners Elaine and William Kendall developed their idea for the Forever Frame after experiencing difficulties at their own wedding. The newlyweds were disappointed when the frame they had crafted from an ordinary shadow-box leaked and cracked. They were unable to change the original picture in the frame and the sand mixed together during their reception. By providing unique and customized frames with tailored customer service, Elaine and William wish to assist in creating lasting memories for any special occasion. Forever Frame has expanded their business to include domestic and international customers making them a rising primary provider of quality shadow box frames. Please visit our website http://www.foreverframe.com/
Follow us on Twitter and Facebook.
For more information, please visit The Forever Frame website or contact Nicole Nearhood at Nicole(dot)Nearhood(at)maagcommplus(dot)com.