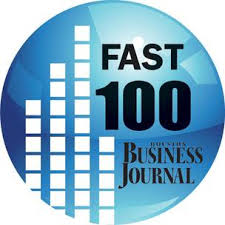 Houston, TX (PRWEB) August 08, 2014
Chief Outsiders, LLC, the leading North American provider of outsourced Chief Marketing Officer services to growth and mid-sized companies has been recognized for the Houston Business Journal's 2014 Fast 100.
The award honors Houston's fastest growing private companies, ranked by a three-year revenue growth from 2011 to 2013. All companies nominated have been doing business for a minimum of 5 years and are headquartered within the 10-county Houston metropolitan area. The winners represent top talent from all of Houston's industries.
Since 2009, Chief Outsiders stands as the only company of its kind –offering strategic business and marketing services to CEOs of mid-sized companies with a nationwide firm of Chief Marketing Officers (CMOs) working on an interim, part-time/fractional, or coaching basis. The CMOs at Chief Outsiders come from a broad range of industries, but all have held the position of vice president of Marketing at one or more operating companies.
"We are excited to be a part of the Fast 100 this year and to see our progress recognized. I know I can speak for our whole tribe and say that our growth and progress mirror the client companies we have worked with and that's something we're really proud of," said Art Saxby, CEO and Founder of Chief Outsiders.
HBJ will announce the rankings of the winner on September 11 at the Hilton America's Hotel. Click here to register for the event.
About Chief Outsiders
Headquartered in Houston, TX, and silver winner of the American Business Awards "Company of the Year," Chief Outsiders serves mid-sized companies from coast to coast with part-time CMO services. Chief Outsiders is unique among strategic marketing consulting firms, taking businesses to the next level by working as part of the leadership team on a fractional or as-needed basis. Unlike most marketing consulting firms, Chief Outsiders believes delivering a world-class marketing strategy on its own creates very little value. The real value is created by helping the organization implement the growth vision.
Chief Outsiders has been a premier source for marketing expertise, execution and leadership for companies such as i2C, AbsolutData, Bethyl Labs, Auto Load Logic and Riverside Company portfolio companies including OnCourse Learning, YourMembership.com and IDoc.