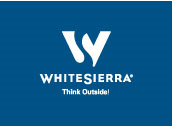 There is such a strong story to tell about White Sierra, and now is the time to tell it!
Portland, OR (PRWEB) August 07, 2014
White Sierra will kick off a new partnership with Ivey, a brand and retail marketing agency, at the 2014 Outdoor Retailer tradeshow in Salt lake City, August 6th-9th. The kick-off includes Beer & Jerky flights open to the public starting at 4:30 p.m. on Thursday the 7th, and Friday the 8th at OR booth 20033
White Sierra, the 35-year-old apparel brand, selected Ivey as the marketing agency of record on June 23, 2014. White Sierra will leverage Ivey's experience in the outdoor athletic retail industry to develop strategic marketing initiatives designed to magnify the Brand's history as a supplier of quality and affordable outdoor wear for the whole family. This partnership will allow the Brand to move quickly and decisively in defining, developing, and executing the tactics that will help drive sales for its valued retail partners.
Ivey, a Portland, Oregon-based agency (ivey.com), has one key objective in meeting clients' needs: Tell Remarkable Stories that Make a Difference. Ivey has worked with clients across many industries, of many different sizes, all with a different story to tell. Ivey has the proven experience, resources, and innovative approach to deliver success for industry leaders such as, Nike, Levi's, DirecTV, and Panera Bread, and for those gaining retail attention, like Mizuno, Nuun, and Harry & David.
Ivey will immerse itself in the White Sierra business over the next year, said CJ Howe, VP/Managing Director Client Services. "After attending just one White Sierra Sales Meeting, the pride, confidence, and commitment the White Sierra team has for the brand is obvious," Howe said. "There is such a strong story to tell about White Sierra, and now is the time to tell it!"
White Sierra and Ivey hope the event at the OR booth will inspire conversations for future merchandisers, and create relationships within the outdoor apparel industry. The event will also include a sneak peak to the future of White Sierra and a drawing to win an iPad Mini.
For questions, please contact:
Kevin Hobday, VP Sales: 813.920.8844
Michael Kunz, VP Operations: 408.980.6688