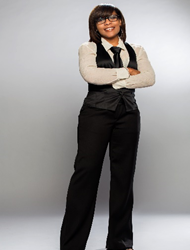 "I see this as an opportunity to have a platform to express my views and to help women build a network of their own." - Robyn LaJoya Charles
New York, NY (PRWEB) August 07, 2014
Robyn LaJoya Charles has always been active in the public. As the daughter of legendary singer and song writer, Ray Charles, Robyn has always been around music and can vividly remember singing songs such as Whitney Houston's "Greatest Love of All" and Mariah Carey's "Love Takes Times". Being a strong and independent woman, Robyn has dedicated herself to the music industry as well as the Women's Radio Network, WRNW1.
In speaking to Robyn about her childhood and her influences', she candidly spoke of her parents and the defining roles they played in her decisions today. In regards to her mother, Robyn explained that she pushed her to explore all of her talents, no matter where they might lead. As for her father, singer/songwriter Ray Charles, his biggest push was for Robyn to attend school. Robyn explained that her father, Ray Charles's life experiences had taught him that one must always have an education to fall back on. But no matter how much her father pushed her to go to school, Robyn has made it clear that her father's life has influenced her to explore her musical passions and most certainly has sparked her creativity.
"I see this as an opportunity to have a platform to express my views and to help women build a network of their own."
Robyn Charles is a women in a way that many are today. She wears several "hats", managing to carefully balance her time and dedication to what is important to her. Weather she's being a mother, singer, producer, songwriter, public speaker or spokesperson, Robyn has made it known that, "you can only be as strong at all of your responsibilities as the network you build for support." Ms. Charles explains that working with WRNW1 has given her more credibility and expanded her ability to expose her own work throughout the listener base of the radio station. "The women of WRNW1 are all unique and impressively powerful in their own right." She finds that her own career has expanded since signing up with Women's Radio Network, WRNW1, eventually giving her enough resolve to proudly say that she is the voice of the network.
Robyn LaJoya Charles is involved in several charitable organizations and benefit groups. Prior to joining WRNW1's team, Robyn has been a part of "The Order of the Eastern Star" / "OES", "Songs For Kids Foundation", and most recently and perhaps most importantly "The Women of Distinction, Atlanta."
On September 23rd, Robyn's song, "Let's Talk About It", will debut. She shares with her listeners about the struggle she is overcoming with a man she is in love with. From the standpoint of many women who are challenged to find love, Robyn takes you on a journey to win the man she loves.
About Women's Radio Network / WRNW1
A unique brand of marketing and promotion helps women build their online presence and bring business women from diverse backgrounds together to build a strong network of successful individuals.
Join us while we celebrate you, and women like you as we broadcast their stories on Women's Radio Network, WRNW1.COM
Some of famous hosts on the WRNW1 include Lisa Singer; known as an award-winning journalist has worked on A&E, E!, and Court TV, and appeared on many more television stations, as well as previously working on the red carpet. KC Armstrong; made famous from the infamous Howard Stern Show. Dr. Joyce Buckner, a famous relationship doctor with multiple guest appearances on The Oprah Winfrey Show.
Be sure to visit http://www.wrnw1.com, where additional information on the Women's Radio Network can be found.
For all media inquiries or for interviews with Robyn Charles please contact:
Richard Lewis - 1-631-605-6185.
Press(at)wrnw1(dot)com
http://www.wrnw1.com
###