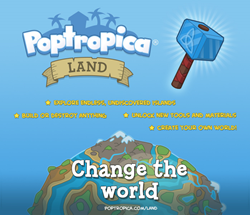 Kids love Poptropica Islands, but they also want to invent their own virtual worlds and stories, and now they can.
Boston, MA (PRWEB) August 07, 2014
Kids can create, destroy and rebuild at will whatever their imaginations can dream with Poptropica Land, launched today from Poptropica®, the popular virtual world for kids. Developed in response to requests from kids, Poptropica Land allows Members to "change the world" by inventing their very own Islands.
In Poptropica Land, players find a mystical tool, spoken of in Ancient Norse legend, which grants them incredible power over the world around them – the power to explore, the power to create and the power to destroy.
Last February, Poptropica Members were invited to participate in the first Poptropica Labs experiment – a concept for testing new features with players – to evaluate the Poptropica Land prototype. Members rose to the occasion, crafting Islands that could be inhabited by everything from space creatures to dragons, and sharing their experiences, which were used to develop the "alpha, version 2" of the product.
"Kids love Poptropica Islands, but they also want to invent their own virtual worlds and stories, and now they can," said Jordan Leary, game designer and developer for Poptropica, who leads the effort to create Poptropica Land. "Using feedback from thousands of Poptropica Members, we were able to deliver a new experience that puts the power of creation, and of storytelling, in the hands of our players."
Parents can buy Poptropica Membership for their kids for less than $4 per month in one-, three- or six-month recurring increments. Membership gives players access to the newly released Poptropica Land,
Early Access to new Islands, use of all costumes and special powers in the Poptropica Store, the ability to save costumes to a personal closet, and access to photos showing achievements in Island quests.
Today's launch is just the beginning for Poptropica Land. New features will be added in the future, allowing even more opportunity for creativity and building stories.
Hundreds of millions of kids have visited Poptropica since its launch nearly 7 years ago, and the number grows every day. Poptropica players come from more than 200 different countries and territories and have their web browsers set to more than 100 different languages.
Kids can stay up to date on news about upcoming new Islands and other exciting developments in the world of Poptropica on the official Poptropica blog.
About Poptropica (http://www.poptropica.com)
Poptropica is a virtual world in which kids explore and play in complete safety. Every month, millions of kids from around the world are entertained and informed by Poptropica's engaging quests, stories and games.
Kids create a "Poptropican" character to travel the many Islands of Poptropica and use gaming literacy to enjoy a narrative that is often rooted in factual history. Problem-solving skills are honed as kids discover and solve mysteries unique to each Island.
There are always new areas to explore in this ever-expanding world where kids can collect objects, read digital books and comics, watch movies and compete in head-to-head competition. Parents can always trust that their children are playing – and learning – in a safe online and mobile environment.
Poptropica is published by Pearson, the world's leading learning company.