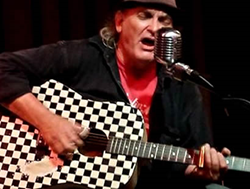 More inspirational and musically joyous than any player I have seen in a long time - great songs perfectly executed with an infectious energy that'll shake-up your world! - Trevor Smalls/Athens, Georgia
Memphis, Tennessee (PRWEB) August 10, 2014
Pop Americana artist Eric Sommer announces mid-summer schedule and it looks like it covers all the bases.
This tour launches in Kansas City on August 9 and swings East through Indianapolis, Columbus, Pittsburgh, then sets up an East Coast run at Rosendale Cafe on August 12. The Rosendale Cafe is a unique showcase, and Sommer has played there a handful of times - a perfect setting for this new crop of songs, stories and out-loud musings.
2014 Summer tour dates include a delicious array of small, medium cap rooms where the audience is usually right in front of the stage and intimate, close-up settings are the norm. While some artists get spooked being this close to the audience, Mr. Sommer is right in his element and raucous stage banter is something he enjoys.
Audiences are excited to have such close access to an artist of Mr. Sommers' stature and a player of his calibre, and conversations from the stage can cover guitars, amps, style, influences and his uniqe merch table. The merch table in question is made of cardboard, a large 1930's suitcase, Home Depot yardsticks and pegboard, velvet, wood glue, a few lava lamps and is decorated with gas cards, motel keys, bottle caps and various other pieces of road flotsam and jetsom. In many ways, this assemblage of odd road debris is a fitting metaphor for this elusive performer, his struggle to "make a difference" and, in the process, becoming a consummate writer, artist and guitar hero. Or as James Tarpley of The Arkansas Times writes, "Eric Sommer - Acoustic Guitar Super Hero!"
Such trappings are cool, very unique and creative, but they can't seem to compete with this Americana players' guitar work - alternating between drop-dead sloppy, breathtakingly clear, and then suddenly crisp and deadly accurate. Eric Sommer is earning a spot as one of the top players on the road today, and his slide and open-tuning gymnastics are breathtaking and exciting. His style is a 4-way intersection mash-up of Steve Howe, David Bromberg, Pat Martino and Billy Gibbons... and then some!
John and Peter's in New Hope, PA is the perfect setting for the kind of experience Mr. Sommer serves up in buckets - a small, intimate setting in a historical venue with more cache than meets the eye. The setting that launched Nora Jones, Mary Chapin Carpenter and so many others will be packed to the rafters for this show and rightly so.
This tour presents Eric Sommer in an intimate setting and is well worth the effort. Tour dates are:
8/9 Czar Bar • KANSAS CITY, MO
8/12 Rosendale Cafe • ROSENDALE, NY
8/13 Parkside Lounge • NYC
8/14 Root Note/Cafeteria • NEW PALTZ, NY
8/15 John & Peters • NEW HOPE, PA
8/16 Avenue 209 • LOCH HAVEN, PA
8/17 Mocha Maya's • SHELBURNE FALLS, MA
8/18 Radio bean • BURLINGTON, VT
8/19 Grassly Theatre • Saratoga Springs
8/21 Club Cafe • PITTSBURGH, PA
8/22 Kafe Kerouac • COLUMBUS, OH
8/23 Scarlet and Grey • COLUMBUS, OH
8/26 Millers • CHARLOTTESVILLE, VA
8/28 Southern rail • CARRBORO, NC
8/30 Ohiolina Festival • MT. VERNON, OH
Following the release of new disc "The Word For World is Forest" scheduled for November drop, PeaPatch Island Entertainment will be releasing details of the March/April Tour being planned for Ireland, Stockholm and UK, France and Germany.
With open tunings, slide guitar, lap-slap tone guitar and a remarkably aggressive fingering style approach, watching Eric Sommer will make you jump out of your seat and holler for joy! There are very few players who have maintained this authentic American style of guitar, and Eric Sommer is one of the very best.
For music samples, please visit Eric Sommer online for additional schedules or contact him at eric(at)ericsommer(dot)com or call 202-255-1995. Additionally, you can find Eric Sommer on Facebook, too. RAINY DAY KARMA is also available on iTunes and CDBaby.
Pea Patch Island Entertainment in Hilton Head, NC, and Marianne Stauffer in Houston, Texas represent Eric Sommer. PR programs are managed thru MTG/NY. For more information, promo/appearance requests or to set up an interview, please contact Gary Curry, PeaPatch Island, 609-202-5021.