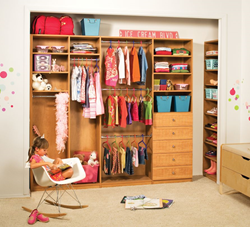 Effective home organization can save precious time and reduce stress, especially with active and growing families.
Orange, CA (PRWEB) August 07, 2014
As back to school season starts, many parents find it difficult to efficiently manage their mounting tasks, including getting their kids ready for school on time. Tailored Living—a leading home organization company—is offering solutions to address this problem using customized home organization systems.
According to Dave Angers, Director of Business Operations at Tailored Living, a cluttered home can not only be a source of stress, but also make it very difficult to effectively manage time, particularly when a household has children.
"It's no secret that children can be a main source of clutter in a home. Back to school season poses a bigger problem for parents because there is less time available to get more tasks done," said Dave Angers. "As a result, we're starting to see a growing trend in entryway, mudroom, and specifically kid's closet organization."
Dave offers the following organizational solutions for each area in order to reduce clutter and save time:

Kid Closets: Pull out hampers for dirty clothes, shoe cubbies, adjustable shelving for books
Entryway: Cabinetry for backpacks, sliding swivel mirrors for one last look, shoe racks
Mudroom: Coat racks, tall cabinetry for sporting equipment, floor level shelving for boots
For many years, Tailored Living has been helping homeowners organize their homes with customized solutions for virtually any room, including closets and garages. With its proprietary design software D'Vinci™, Tailored Living is able to create 3D renderings of an organized space so customers can visualize the result and clearly understand the level of personalization that Tailored Living can offer. With back to school season around the corner, home organization becomes all the more important.
"By organizing entryways, kid closets, and mudrooms, parents and children will have a place to neatly store toys, books, clothing, shoes, coats, sporting equipment, etc. and have easy access to them," said Dave Angers. "Effective home organization can save precious time and reduce stress, especially with active and growing families."
To encourage families to get organized for the back to school season, Tailored Living has launched its Back to School Sale Event which runs from August 4th through September 28th, 2014. The event offers $200 off any home organization project. For more information on the sale, and to schedule a complimentary in-home consultation, visit http://www.tailoredliving.com.