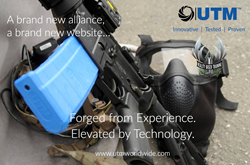 North Branch, New Jersey (PRWEB) August 08, 2014
UTM Ltd. (UTM) and Phoenix RBT Solutions, LLC have formed a strategic alliance to create UTM Reality Based Training (UTM RBT), in order to offer the most innovative, technologically-advanced and comprehensive training system in existence. UTM RBT has an integrated system that combines the advanced product technology of UTM, with the vast experience acquired by Phoenix RBT Solutions in working with Elite Special Forces, Militaries, and Law Enforcement Agencies around the world. The UTM RBT system maximizes the effectiveness of any overall training program by enabling cross-discipline training exercises, such as integrating firearms into combat and tactics training. The UTM RBT system embodies a new and complementary mindset, mentality and methodology that will revolutionize and redefine the training industry.
In addition to being the highest-rated, safest, most reliable and accurate Non-Lethal Training Ammunition (NLTA) used by the U.S. Military and International Agencies, UTM RBT is currently the only NLTA manufacturer to offer non-lethal 4.6mm and 7.62mm Man Marker Rounds. "The UTM RBT alliance allows us to provide a complete training system that is unlike anything else. Our training and products are not limited by training facility restrictions, but instead, are fully immersive, giving soldiers, and law enforcement officers and professionals, a full-stress inoculation experience - in any environment. The UTM RBT system offers full training freedom, with the added advantage of absolute safety," says Tony Lambraia, UTM RBT Chief Operating Officer for U.S. Sales. "This is not about announcing 'just another training course,' or marketing 'another training aid,' it's about introducing a new and complementary mindset, mentality and methodology to the training industry. We want to break the mold of 'That's how we have always done it,' and instead, offer efficient and effective training that we are certain will ultimately help to save lives. The UTM RBT System will allow us to redefine and revolutionize the training industry as we know it," says Steven Didier, UTM Chief Operating Officer for International Sales.
Founded in 2000, UTM Ltd. is a training ammunitions and weapon conversions manufacturer. Phoenix RBT Solutions, LLC was founded in 2008 to provide training, training facilities design and consultation on training curriculums and methodologies. UTM RBT currently offers products and training to Military, Law Enforcement Agencies, and Private Training Organizations in 55 countries around the world.