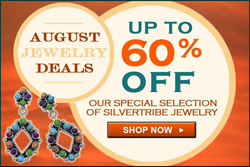 Each of our fashion rings is as special and unique as those who wear them.
(PRWEB) August 07, 2014
Summer is in full swing and fashionistas everywhere are showing off their warm weather style. With a change to lighter, brighter summer colors also comes a change in jewelry. And the fingers are a perfect place for a bold and bombastic piece that will match your beach-inspired attire.
Now, the online leader in Native American and fashion jewelry has unveiled a brand new line of fashion rings that are perfectly fitted for unique summer looks.
"We've always taken great pride in our massive selection of fashion rings," said SilverTribe spokesman Chris Anderson. "Now, we're thrilled to announce the addition of thousands of new turquoise, Native American and southwest fashion rings that are here for the summer and beyond!"
Part of the summer collection at SilverTribe is a brand new line of turquoise rings. From subtle single-stone pieces to magnificent multi-stone masterpieces, SilverTribe has more turquoise rings than any other online retailer.
"Unique products continue to dominate as shoppers look to display their individuality," said Anderson. "Each of our one-of-a-kind turquoise rings is special and unique, just like you!"
Customers both new and returning are encouraged to sign up for SilverTribe's email VIP club. It costs nothing to join and VIP members receive information about exclusive sales and special discounts before anyone else. Customers also save 10% right away simply by signing up.
"Our email VIP program gives customers the opportunity to get even more savings on top of our drastically discounted prices," said Anderson. "But rest assured, at SilverTribe, you'll never have to sacrifice the quality of fashion rings for price. The largest selection, lowest prices and complimentary shipping on all orders to addresses in the United States, that's what separates SilverTribe from the rest."
To browse SilverTribe's new collection of turquoise, Native American and southwest fashion rings, or to shop the largest inventory of authentic jewelry online, please visit SilverTribe today!