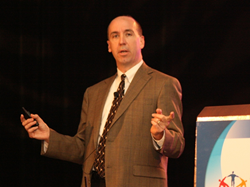 The future is not a place and business models are changing. In order to make the most of this, we need to step up our game and start unlearning.
San Francisco, CA (PRWEB) August 12, 2014
While the dog days of summer may have some people slowing down, futurist Jack Uldrich is just heating up. Following his recent return from an engagement in the UK with a private financial firm discussing "Fast-forwarding the Future Workplace" he'll soon be addressing audiences in Colorado, South Carolina, and Minnesota respectively.
As a futurist, Uldrich is fond of saying, "the future is not a place." Building on that thought, he goes on to say, "In the past, banking, retail, healthcare, and education were thought of as physical location customers, patients, and students had to travel to in order receive the product or service. This is no longer true. In Seoul, South Korea for example, customers can now grocery shop at virtual grocery stores through their smartphone and then have the goods delivered to their homes or apartments by the end of the day. Similarly, a growing number of healthcare professionals and hospitals are now using mobile applications and video to reduce the need for patients to physically visit healthcare clinics and hospitals. And universities around the world are 'flipping the classroom' and using online courses and video to bring the classroom to the student instead of requiring the student to travel to the classroom.
As a result of these transitions, business models are changing. Retailers are discerning innovative new ways to service existing customers and reach out to new ones; healthcare professionals are implementing new mechanisms to keep people healthy; and schools and universities are scaling their courses to reach thousands of students on schedules that fit into their lives." Such are some of the issues that Uldrich discusses with his various clients.
Uldrich, a best-selling author and international speaker, delivers presentations around the world on subjects ranging from future-proofing, future trends (the Internet of Things, nanotechnology) unlearning, and leadership. Uldrich is highly acclaimed for the relationships he develops with his audiences. He has been quoted as being "inspiring, thought provoking, motivational, and practical all at once."
Uldrich 's August speaking engagements include:

August 14: Colorado Springs, CO.
August 15: Charleston, SC.
August 25: Rochester, MN.
Parties interested in learning more about Jack Uldrich, his books, his daily blog or his speaking availability, are encouraged to visit his website. Media wishing to know more about these events or interviewing Jack as a futurist or trend expert can contact Amy Tomczyk at (651) 343.0660.