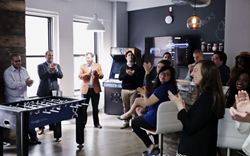 Our new space provides such a collaborative and fun-filled environment... I couldn't ask for a better setting.
(PRWEB) August 11, 2014
Path Interactive proudly announces the company's relocation to newly expanded office space in New York City's tech-friendly Flatiron District ("Silicon Alley"). The company has moved to a newly designed, larger office space located at 915 Broadway, Suite 501 on the building's fifth floor. The new space will support Path Interactive's cultural values of cooperation and teamwork, as well as foster enhanced collaboration with teams and clients alike.
The new office layout highlights an employee common area with vintage arcade games including Ms. Pac Man, Galaga, and Mortal Kombat III. The company will also be hosting monthly staff social nights, providing locally-sourced beer and cider on tap.
"Our new space provides such a collaborative and fun-filled environment," says Path Interactive's HR Manager, Chanae Richards. "Within the span of a day, there can be a client meeting led by superbly qualified staff, followed by a Mortal Kombat battle between one of our Specialists and the CEO. I couldn't ask for a better setting."
The new Path Interactive offices were designed in partnership with Homepolish, an interior design firm in New York City. Wood paneling accents were created using upcycled panels from NYC's Build It Green, and custom wall prints lend a personal touch to twin phone booths by reflecting the cofounders' golf and surfcasting hobbies.
"The new space is collaborative on both a professional and a social level. At any given point of day, staff members who work in different channels can take a moment to catch up our kitchen or lounge area, relax or even beat the high score on any of the games we have here," says Marketing & Operations Coordinator Jarobin Gilbert. "You can see it in the staff's faces that the new elements are a warm welcome to the work day."
Path Interactive's move-in day was documented in a 4:48 video that includes a look around the space as well as interviews with the staff. See the full video here: https://www.youtube.com/watch?v=P_LzA2MSbfg&list=UUCyUVfoP-haavRpTyEYnJ8g.
Path Interactive has also begun planning for a redesigned company website, to be launched in early 2015.
Path Interactive is a New York City-based digital marketing agency that delivers results-oriented campaigns to its diverse client portfolio through paid, owned and earned digital media strategies. Founded in 2005, the agency has experienced regular double-digit annual growth by offering consistently high-quality paid search and display advertising, search engine optimization, social media, website development and digital marketing consulting services in both local and national markets.