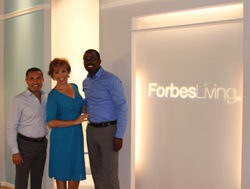 Sirena's water-based filtration makes it a fundamentally superior vacuum
Ottawa, ON (PRWEB) August 08, 2014
Sirena Inc. is excited to announce that they will be featured on the new Forbes Riley special called "Forbes Living". Forbes Riley Media sent the following press release regarding this new venture and Sirena Inc. click here to read the release.
Sirena President and founder Toufic Khayrallah had this to say regarding the pairing of FRM and Sirena Inc.: "It is a pleasure to work with such a well-respected woman such as Forbes Riley and we are honored to be a part of the new Forbes Riley Living launch. This show is an innovative way to introduce consumers to new and environmentally friendly products and companies."
Sirena Inc. is the manufacturer of a high quality water filtration vacuum cleaner. Water is widely viewed as the most economical and effective means of filtration available for residential vacuums. The ability to add a variety of fragrances and aromatize the air, as well as deodorizer to remove unwanted odors, makes Sirena one of the most versatile cleaners available.
The Sirena Total Home Cleaning system is available through select dealers worldwide as well as through online distributors.
To learn more, or to find a dealer near you, visit their website at http://www.Sirenainc.com.
Sirena Inc.
5459 Canotek Rd.,
Ottawa, ON Canada K1J 9M3
Phone: 613-695-6444
Fax: 613-695-6414
Toll Free: 1-855-474-7362
E-mail: Info(at)SirenaInc(dot)com